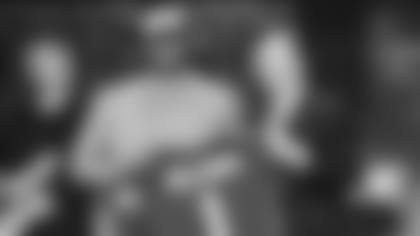 With the NFL Draft officially over, pundits throughout the league graded each team's draft. Below is what they thought of the Green & White's six new additions.
Round 1, No. 3 overall, Alabama DT Quinnen Williams
Round 3, No. 68 overall, Florida edge rusher Jachai Polite
Round 3, No. 92 overall, USC OT Chuma Edoga
Round 4, No. 121 overall, West Virginia TE Trevon Wesco
Round 5, No. 157 overall, Minnesota LB Blake Cashman
Round 6, No. 196 overall, Rutgers CB Blessuan Austin
"Williams was a dominant player at Alabama and will be a thorn in the side of NFL offensive lines. New defensive coordinator Gregg Williams wanted an interior presence whether he calls in three or four-man fronts, and Williams is all of that. Jets fans may have been looking for an outside pass rusher in Round 1, but it's tough to fault them for taking Williams.
Polite's tape shows he has both power and bend to terrorize NFL quarterbacks. If he proves himself to be a professional, the Jets will have the steal of the draft. If Edoga is healthy and has his head on straight, he'll be an effective pass protector and nasty in the run game, much like the Jets' Kelvin Beachum. Note that the team gave up its second-round pick this year in last year's trade to land Sam Darnold, and that deal should pay off.
Wesco will block and receive for the Jets. [Blake] Cashman brings athleticism to the linebacker corps, and Austin would have been picked on Day 2 of this draft if not for a knee injury."
"Best pick: It was their first, defensive tackle Quinnen Williams. The kid will be a dominant player for a long time on their line.
Worst pick: It's hard to find one, but I might go with third-round pass rusher Jachai Polite because of his off-field issues. But as a player, he can be a steal if he can stay focused.
The skinny: I liked their first three picks, which included third-round tackle Chuma Edoga. This draft will be a nice building block as they try and catch the Patriots in the division."
"This was a really quiet weekend for the Jets. They got their guy early on Thursday, and they mostly kept to themselves. After all the talk that the Jets wanted to trade out of the No. 3 spot to add more picks, taking Quinnen Williams was a great consolation prize. You could make the case that he is the best overall player in the class, but the positional value at defensive tackle is less than quarterbacks and edge rushers. He will thrive in Gregg Williams' attacking, hybrid defense as an elite interior disruptor.
This class has to get dinged at least slightly because of how much GM Mike Maccagnan gave up in the trade to get Sam Darnold last year, which cost the team three valuable second-round picks, including the No. 34 pick this year. They obviously hope Darnold is worth it, but it's not like this team is without needs. There's a reason they are consistently drafting in the top 10.
Maccagnan did get an extra third-round pick by trading Teddy Bridgewater last year, and the two third-rounders are decent values. Jachai Polite (No. 68) has first-round tape but he bombed the combine and his athleticism (and work ethic) is in question. Still, you don't get 11 sacks in the SEC without some talent. Chuma Edoga (No. 92) played right tackle for the Trojans, but he might move inside to guard. I rated Trevon Wesco (No. 121) as my top H-back in the class, and he's a ferocious blocker who's just a little undersized at 6-foot-3, 267 pounds. He will likely move to tight end full time. Blessuan Austin (No. 196) had some injury issues in college, but if you can get him on the field, he's a solid player.
Defense was the priority, and Williams is going to be a Defensive Rookie of the Year candidate. If Polite can show what he did on the field last season, the Jets have something."