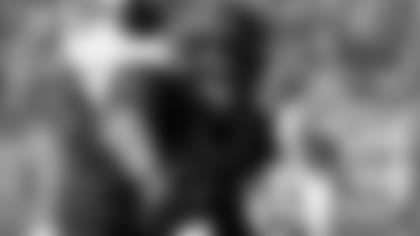 ESPN
Grade: B
The Jets clearly went best-player-available throughout the class, and they didn't reach. They stuck to their board, and I can respect that.
Jamal Adams is simply a fantastic player and value at No. 6 overall, and Marcus Maye at the top of the second round is right where I thought he'd go. ArDarius Stewart, Chad Hansen and Jordan Leggett all should help the passing game -- and whoever's throwing them the ball. Leggett, in particular, could be a starter when the season begins.
Credit general manager Mike Maccagnan, too, for trading down and acquiring extra picks four times, and picking up an extra fifth-round pick in 2018. He knows the roster's deficient, and this isn't a one-year fix.
Bleacher Report
Grade: B
New York had bigger needs than safety, but the back end of their defense could be a terror for the next decade. Leggett may finally give the Jets a receiving threat at TE.**
NFL
Grade: B
Jamal Adams is an excellent, hard-nosed stud who presents great leadership qualities. He was best player available early in the first, and they made the right call. They picked up the ultra-talented Marcus Maye in the second round. Finding a starting receiver in ArDarius Stewart in the third round will be viewed as a good pick sooner than later.
Former Cal receiver Chad Hansen made amazing catches in 2016, but will he be physical enough against veteran NFL corners? Selecting tight end Jordan Leggett in the fifth was a good move, even if he is more of a straight-line runner than elite in his agility.
CBS Sports
Grade: C
They landed a gem in first-round LSU safety Jamal Adams. They did get two receivers with their next two picks, and I really like Cal's Chad Hansen in the fourth. Sixth-round runner Elijah McGuire could be a steal in that spot.
SB Nation
Grade: C
The Jets fixed their safety unit in this draft by picking Jamal Adams in the first round and Marcus Maye in the second round. Along with free agent Morris Claiborne, the Jets have put resources into the secondary. The Adams pick was great. I viewed him as a top-three player in the daft. For me, No. 39 was a little early for Maye.
After them, the Jets doubled up on wide receivers ArDarius Stewart and Chad Hansen. Stewart is a really good athlete and Hansen has reliable hands. Fifth-round tight end Jordan Leggett might get more targets than the both of them. He fits perfectly with new offensive coordinator John Morton, who likes to flex tight ends out to create mismatches.
Sports Illustrated
Grade: C-
It started off so dang well with S Jamal Adams at No. 6—he can be a focal point of the Jets' defense for years to come. Second-round safety Marcus Maye (No. 39) is a talented guy himself. They spent their next three picks on a pair of WRs (ArDarius Stewart at 79, Chad Hansen at 141) and a TE (Jordan Leggett, 150). They did not hit cornerback until picks 197 and 204 (Jeremy Clark and Derrick Jones, respectively); their only linebacker pick was Dylan Donahue (No. 181), a pass rusher transitioning from his role as a college DE.