Newyorkjets.com's coverage of the 2014 draft includes breakdowns of each position group, focusing both on the Jets' current situation and the top players expected to be selected at the position from May 8-10. All player rankings have been compiled from 10 different "big boards" around the Internet, updated as recently as today and as far back as the start of free agency. Today's fourth in the series: Wide Receivers.
A rookie quarterback coupled with an injury-depleted wide receiving corps isn't exactly a recipe for success through the air in the NFL, and the Green & White provided no exceptions to that rule in 2013.
No wide receiver played more than 12 games for us the entire season, and Jeremy Kerley's team-leading 43 receptions for 523 yards stacked up as the 95th- and 86th-highest marks in the league. As a team, we ranked no higher than 30th in receptions, receiving yards and receiving touchdowns.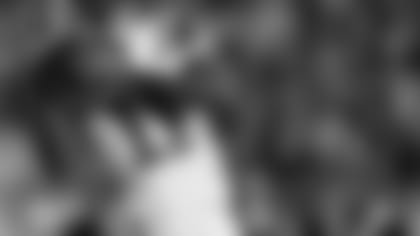 "We're going to improve the skill positions, absolutely. We're going to improve the skill positions," GM John Idzik said on New Year's Day.
The most notable improvement came with the signing of Eric Decker, one of Peyton Manning's top targets in Denver whose 32 regular-season touchdowns since 2011 rank third among NFL wideouts. Speedy WR/KR Jacoby Ford was also added to the mix and will compete for a spot on the 53-man roster.
Those two additions should offset the loss of Santonio Holmes, released March 10, yet the biggest upgrade for the receiving corps could come from within the locker room in the form of a healthy Kerley and Stephen Hill along with a full season of the reliable David Nelson. Others such as Clyde Gates, Greg Salas and Saalim Hakim will also return to round out the position, while Swiss Army knife Josh Cribbs is currently an unrestricted free agent.
As for position enhancement through the draft, let's just say it's a good year to be looking for a wide receiver. ESPN's Todd McShay said of this year's wideout prospects that it's the "deepest position in what we're calling one of the deepest drafts ever." While there are many viable options for the Jets, however, Sammy Watkins is not expected to be one of them.
All Watkins did at Clemson was set the Tigers' career receiving records for catches (240), yards (3,391) and touchdowns (tied for first with 27), while earning All-America first-team honors three times. Oh, and did we mention he's only a junior? The 6'1", 211-pounder "plays bigger than he measures, runs bigger than his listed size, and has always had explosive speed," ESPN's Mel Kiper said. "He fights through contact to make plays for the ball, and once he has it, he's devastating after the catch."
While Watkins is the consensus top receiver, Texas A&M's Mike Evans is nipping closely at his heels. The 6'5", 231-pound high school basketball star seemed to play at his best against his toughest opponents. In two games last season against Alabama and Auburn, for instance, Evans combined for 18 receptions, 566 yards and five touchdowns. He's got impressive speed for his size (he ran a 4.53 40) and as NFL.com analyst Gil Brandt tweeted during A&M's pro day, "Mike Evans has the best hands I've seen since Calvin Johnson."
With 17 teams ahead of us in the first-round pecking order, we'll likely be looking at Odell Beckham Jr. (LSU), Brandin Cooks (Oregon State) and Marqise Lee (Southern Cal) as the best available receivers.
Since February's combine, Beckham has emerged as the most popular pick for the Green & White within mock draft circles. The 5'11", 198-pounder broke LSU's school record with 2,315 all-purpose yards last season, thanks in part to his success as a return man under now-Jets special teams coordinator Thomas McGaughey.
Cooks is slightly smaller in stature (5'10", 189) but as quick as they come. The 2013 Biletnikoff Award winner topped all receivers at this year's combine in the 40-yard dash (4.33 seconds), 20-yard shuttle (3.81) and 60-yard shuttle (10.72).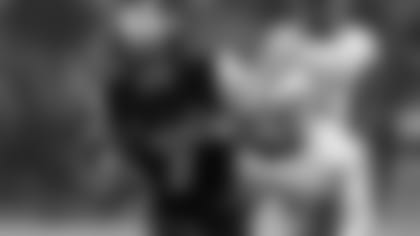 Lee (6'0", 192) was phenomenal as a sophomore but his numbers dipped in an injury-plagued junior season. Regardless, his career receiving numbers bested Watkins by eight catches, 264 yards and two touchdowns, each with 36 games played. "I still believe a healthy Marqise Lee can rival Sammy Watkins for what he's able to do," NFL.com analyst Bucky Brooks said. "They just flipped years. Watkins had a bad sophomore year and Lee had a great sophomore year. Watkins had an outstanding junior year, Lee had an injury-plagued year."
Should the Jets decide to address a different position of need on Day 1 of the draft, there will still be a plethora of receiver talent on the board in Rounds 2 and beyond.
Florida State's Kelvin Benjamin (6'5", 240) and Vanderbilt's Jordan Matthews (6'3", 212) have taken advantage of their size at the collegiate level. Benjamin showed his go-up-and-get-it skills when he scored the BCS National Championship Game's winning touchdown with 13 seconds on the clock, while Matthews ended his four-year career with the Commodores as the SEC's career leader in receptions (262) and receiving yards (3,759).
Of course, Penn State's Allen Robinson, Fresno State's Davante Adams (6'1", 212) and Ole Miss product Donte Moncrief are no slouches themselves. Robinson led the Big Ten in receiving in each of the past two seasons, while Adams led all of FBS football with 131 receptions last year. Moncrief shined at the combine, ranking in the top three among receivers in the 40 (4.40 seconds), the vertical jump (39½") and the broad jump (11'0").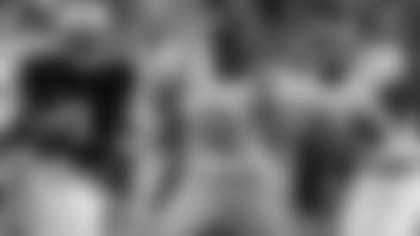 Jarvis Landry (5'11", 205) doesn't have the height that the aforementioned wideouts were blessed with, but he does have an obvious tie to the Jets because, like Beckham, he played for Thomas McGaughey at LSU.
Other Notables:Martavis Bryant (Clemson), Paul Richardson (Colorado), Bruce Ellington (South Carolina), Cody Latimer (Indiana), Jared Abbrederis (Wisconsin), Brandon Coleman (Rutgers), Robert Herron (Wyoming), Josh Huff (Oregon), Mike Davis (Texas)
It's "the deepest position in what we're calling one of the deepest drafts ever" - Todd McShay