Marques Douglas grew up in North Carolina, went to college in the nation's capital and went from Baltimore to San Francisco and back as a pro. But he's had no trouble getting into his Garden State of mind so far this year.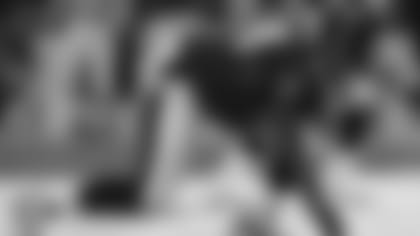 "New Jersey is known for its blue-collar mentality," Douglas told me in the Jets' locker room today, "and I fit right in with that. When I'm riding around the community, I see people just like me. It's just that I have a different job. I'm just excited to be here."
The Jets are excited to have him, although perhaps Jets fans might have missed the significance of Douglas' signing as an unrestricted free agent while basking in the glow of former Ravens teammate Bart Scott's arrival on the scene.
But here's this is an important part of the foundation that head coach Rex Ryan and coordinator Mike Pettine are building on defense now: Douglas is NFL cutting edge when it comes to spending quality time in the opponents' offensive backfield.
"Yeah, that's accurate," he said. "The coaches allow you to move around and make plays. Over the years, Rex's philosophy is if you make it, make it, but don't hurt the defense. Play inside the scheme and your plays will happen."
If Douglas is not one of the first players you think of in terms of "stuffs," he should be. In the past six seasons, according to Stats Inc., he's third in the NFL among all defensive players and second among all D-linemen in tackles for loss. Here's the league's top five from 2003-08:
| | | | |
| --- | --- | --- | --- |
| Player | Team(s) | TFL | Yds Lost |
| DT Pat Williams | BUF-MIN | 49.0 | 104.0 |
| LB Lance Briggs | CHI | 44.5 | 96.0 |
| DE Marques Douglas | BAL-SF-BAL | 41.5 | 82.0 |
| LB-DE Terrell Suggs | BAL | 40.5 | 90.5 |
| LB James Farrior | PIT | 37.5 | 67.0 |
Three of those six seasons, Douglas was a 49er. But he said one inducement to return to Baltimore last year was to play again in Ryan's scheme.
"The system is tried and true," he said. "If you look at it on tape, you very seldom know what we're in, but at the same time all of us know our jobs. When you have a defense like that, guys take over ownership of it, and it's fun at the same time. From Kris Jenkins to Mike DeVito, everybody will have a role."
It's sometimes hard to know, though, exactly what position to classify players in this scheme. I asked Douglas what he calls himself by trade.
"I've played everything from outside linebacker to nose technique in the third-down package to DT," he said. "If I'm in there, I know what I'm doing. I'm confident with my ability, so it doesn't matter to me."
But what does matter to Douglas is to being around people he's familiar with and who are familiar with him. That's why it's probably not a surprise to know that Douglas and Scott, those former Baltimoreans, are now in adjoining lockers (in fact, in the lockers that were homes to Brett Favre and Laveranues Coles last season).
"I've probably played four years with Bart," he said. "It's been fun to see him mature as a player, to come back to the Ravens last year and see him do what he does."
But it seems that a large reason the 6'2", 292-pounder is now in North Jersey is because that's where Ryan has found himself after 10 seasons in Crab City.
"I have a chance to potentially end my career here, and what greater coach to do it for than Rex Ryan?" Douglas said. "He got me when I was a 22-year-old rookie coming in. Now I'm a 32-year-old veteran. He knows how to use me. He knows my strengths and weaknesses. I'm just happy, regardless if it's New Jersey or Tupelo, Miss., if he's there, I want to be there with him."