Tailgating is one of the best parts of gameday, but a fun day of football can wreck your diet. In fact, I read that the average fan eats 1,200 calories in a sitting!
All through college and before dancing with the Flight Crew whenever I brought food to a tailgate I tried to "health-ify" it so I wouldn't feel so guilty about indulging. I figured you might want to try some calorie-conscious tailgate-approved snacks at your next football party. Who knows, you may even score some points with your friends.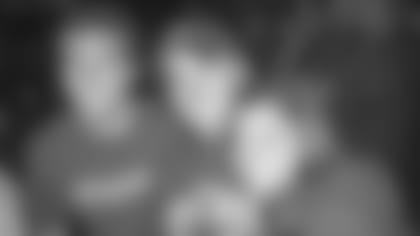 Salad isn't the most tailgate-friendly food but having veggies around a tailgate or in front of the TV is a great way to snack all day without too many calories. So instead of needing to bring a salad bowl, dressing, forks, etc., I like to take everything you put in a salad but on a skewer.
■ Dice up cucumbers, carrots, celery, radishes, add cherry tomatoes, and you can even put those little mozzarella balls on, too. Then the morning of the party you can drizzle your favorite low-cal dressing over it. The girls will love it and it will be the most colorful plate at the tailgate. You can totally do this with fruit, too, by the way.
My own super simple recipe. Turkey is such a great source of protein, has next to no fat, and the best part is it takes literally five minutes to make!
■ In a mixing bowl mix ground turkey breast, three cloves of grated garlic, two handfuls of Italian bread crumbs, one egg, a handful of parmesan cheese, a half of an onion grated, and parsley. Combine and make mini meatballs and bake at 350 degrees for about a half hour or until they are golden brown. Serve with your favorite sauce on little whole wheat rolls.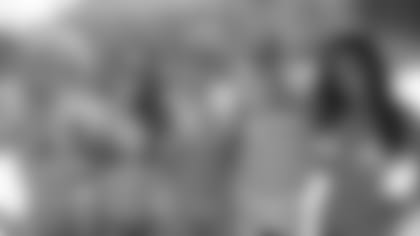 The best nachos I have ever had were at a restaurant called The Cliff in Laguna Beach, Calif., and I have been re-creating them ever since. These are perfect for a tailgate because they are supposed to be served cold, unlike regular nachos, and have way less fat and sodium than traditional recipes.
■ At the grocery store I will usually get shredded chicken from the salad bar, or you can buy a rotisserie chicken and shred it up yourself. Squeeze fresh lime juice (one large lime or two small ones should do it) over the top, grate in a clove of garlic, and mix. In a separate bowl mix diced tomatoes, red onion, a clove of grated garlic, corn, avocado, diced bell peppers, salt, pepper and cilantro, and let it set in the refrigerator overnight.
■ Instead of melting a ton of cheese over the chips, I will get a super sharp white cheddar cheese and grate it over the fresh salsa and chicken. You can even mix half regular tortilla chip and half lime chips. These are the freshest and lightest tasting nachos you will ever have.
In the fall my favorite thing to bake are these oatmeal cookies. The recipe is a takeoff from Jessica Seinfeld's cookbook, and trust me, no one will be able to taste the veggies. I even made them last week for the Flight Crew.
■ Ingredients: 1 cup oats, 1 cup whole wheat pastry flour, 1 tsp. baking powder, ½ tsp. salt, 1 tsp. cinnamon, ¾ cup brown sugar, one mashed-up ripe banana, and one small jar of banana baby food. (I know, it's weird, but go with it), 3 tablespoons butter, one egg white, one zucchini half peeled and grated, one yellow squash half peeled and grated. You can add chopped nuts and raisins if you like.
■ Combine butter and brown sugar until it comes to a paste consistency, then add in all the other ingredients. Put on a cookie sheet with parchment paper, bake at 350 degrees for 10-12 minutes, and cool completely before eating.