After garnering some first-team reps during training camp, Jets rookie OLB Dylan Donahue played seven defensive snaps, eight special teams snaps, and recorded his first career tackle against the Bills on Sunday.
"I thought of my dad. He was a huge reason why I wanted to go to the League," he said. "I thought of all the things he's done for me as well as my family. A tear came to my eye. I still can't believe it."
Just starting his professional career, the 25-year-old Donahue took a road less traveled to get to this point. Growing up in Billings, MT, Donahue began playing football at a young age. His interest in the game partly came from his father, who attended the University for Wyoming before playing four seasons in the NFL.
Known for his rambunctious nature, Donahue was a standout at Billings West High School. However, his grades hampered his ability to play at the Division 1 level. He landed at Montana Western, where he redshirted his freshman year before eventually deciding to walk away and work at his father's roofing company.
It was that summer that Donahue realized he was at a crossroads.
"I couldn't see what was going to happen with my future. It was depressing…I didn't get very good grades either," he said. "So I didn't really have an education to fall back on."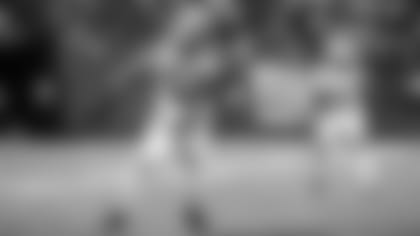 Donahue decided to rededicate himself to the game he loved, with reaching the NFL his long-term goal. He enrolled at Palomar College, a junior college in San Marcos, California, and swore to pay for it on his own.
"Sometimes it was hard. I didn't know how I was going to pay for everything and still eat and live somewhere," he said. "I was always couch hopping. Sometimes I didn't know where I was going to stay. There were times that I was basically homeless."
Donahue moved from Palomar to the University of West Georgia. In his two seasons with the Wolves, he racked up 25.5 sacks. He was invited to the NFL Combine, impressing many scouts and the leader of one of his drills, soon-to-be Jets OLB coach Kevin Greene.
On draft night, Donahue briefly lost hope.
"I'll be honest, I had kind of given up on the draft," he said. "[Once the fourth round] blew by, I went to my room to just wait it out. I swear like five minutes later, my mom starts yelling, 'Your phone is ringing!' I answered it and it was Coach Greene."
Donahue credits those tough moments for the fiery style of play he hopes becomes his trademark.
"That's why I play so hard," he said. "I know what it's like to not be sure of what you are going to have. It drives me."