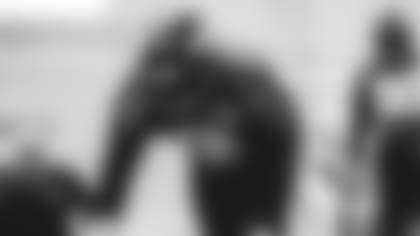 Even after a career-year in 2021, Jets defensive lineman John Franklin-Myers is not satisfied.
"Everybody wants to talk about how well I did and how I had a career year, but there's so much meat left on the bone in the sense that I could've had 10 sacks," he said. "I could have done more, and at the end of the day hindsight is 20/20 but it is just something I look forward to next season."
Although JFM's 6 sacks tied for the team high with DT Quinnen Williams, and his 43 QB pressures and 14 QB hits led the defense, he believes his pursuit and consistency must improve.
"Something I can get better at is running to the ball," he said. "I can get better at playing consistent during that five-game stretch that I didn't have a sack in. Those are things I beat myself up about in the offseason and I think it's important to."
Franklin-Myers started a career-high 16 games in the 2021 season, finishing with 35 tackles and 6 TFL. He received the highest grade from Pro Football Focus (80.3) of all Jets players, while leading the defense with 716 snaps, or 66% of the plays. Conditioning was his priority during the offseason.
"I worked on some lateral quickness in terms of sometimes I was able to get through freely and sometimes I missed those opportunities or wouldn't change direction quick enough," Franklin-Myers said. "My coach [Aaron Whitecotton] jokes about it all the time, he said last year I wasn't running nearly as fast as this. He's noticed, other coaches and the guys are talking about it, and we use it to compete with."
That competition is stronger than ever among the defensive linemen with the return of Carl Lawson and Vinny Curry, and the free-agent additions of Solomon Thomas and Jacob Martin. The Jets also moved up in the first round to draft Jermaine Johnson and added Micheal Clemons in the fourth round.
"Vinny helped me a lot last year while he was hurt and that tells you a lot about his character and Carl broke down every offensive lineman every week for us last year," Franklin-Myers said. "Solomon plays defensive tackle, which is a position I will also play, so to be able to learn from him is great. Jacob and I are two different players and he brings so much in terms of speed rush, that I feel like I can take a little bit from that."
The versatile Franklin-Myers can be used outside at end and then kicked inside in sub packages. The Jets have more numbers up front and Franklin-Myers feels like he can reach another level.
"We're going to help each other make a lot of plays and just get a lot of wins," he said. "That's the plan going forward, these guys do a great job of playing with each other, so I'm looking forward to this season."