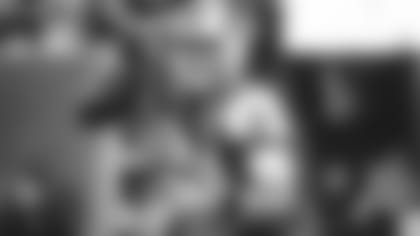 The Jets turned to a rookie quarterback Friday night for only the third time in 50 installments of their preseason series with the Giants. Sam Darnold led a pair of touchdown drives and possibly inched closer to the starting job when the Green & White open their season Sep. 10 against the Lions in the Motor City.
"I'm not here to say that I've won the job or I've lost the job," Darnold told reporters after the Jets dropped a 22-16 contest at MetLife Stadium. "I'm just going to play consistent football, continue to put my best foot forward for the team, continue to be a good leader for the team and just really be myself."
After failing to deliver any touchdowns in his start last week vs. Washington, Darnold flipped the script on the Jets' opening possession. Leading an 11-play march that culminated on a 10-yard scoring run from Bilal Powell, Darnold converted third downs with his arm and his legs. He barely got a snap off on a third-and-8, showing his maturation by getting out of a play and finding tight end Neal Sterling for 13 yards. Then Darnold employed his special feet, working his reads on a third-and-13 before taking off and racing for 14 yards.
"It was pretty cool to be able to see it and then digest the information," Darnold said of the read prior to the Sterling connection. "It was pretty cool to be able to see that as kind of a first few games in the NFL and see that and check to that."
Penalties hindered Darnold and the offense after Powell's touchdown. The USC product was charged with an intentional grounding infraction on a play when Giants defensive tackle Dalvin Tomlinson delivered a low shot. But Darnold would answer with some more high moments, getting an assist from a defensive takeaway that gave the home squad the ball at the NYG 47-yard-line.
Darnold cashed in with points, converting another critical third down when his 16-yard connection to Quincy Enunwa set the club up inside the red zone. With protection holding up the ensuing play, Darnold hit Terrelle Pryor on a crossing route and the lanky wideout did the rest for a 12-yard touchdown. It was Darnold's second passing TD of the preseason.
"I didn't really want to force it in there," Darnold said of his first read to TE Chris Herndon, "and knew I had shallow coming to me and dumped it off and Terrelle did the rest."
After completing 8 of 16 in the opening 30 minutes and not turning the ball over, Darnold opened the second half. But the Jets ran Powell three consecutive plays and his night was done. The Jets didn't have any explosion plays in the passing game, but Enunwa caught a pair of passes and Jermaine Kearse did not dress.
"He'll have progress from here until the day he retires." said head coach Todd Bowles of Darnold. "He did everything we have asked him to do. He's learning from his mistakes, he's seeing things as he goes. As a rookie quarterback or a rookie position player period, you're going to get into the games and no matter what your Coach tells you or a veteran tells you, you are going to see things for the first time and you're going to have to make football decisions. The more he plays, the quicker the football decisions come so that's good to see for him."
Eight nights after Darnold and the offense couldn't punch it in following two trips to the opposition 20, the 6'3", 225-pounder had his unit 2-of-2 inside the red zone. Over three preseason games, he has completed 64% (29 of 45) of his throws for 244 yards with 2 TDs and 1 INT.
"I have a good feel of where we want to go and what we need to do," Bowles said. "We'll sit down and discuss it as a coaching staff and move forward from there."
If Darnold does get the call, the 21-year-old feels prepared to take the rock after a strong summer. The Jets conclude their preseason slate Thursday night vs. the Eagles in Philadelphia.
"If that's their decision, I definitely feel like I'm ready," he said. "I feel good with the offense and good playing with the starters."