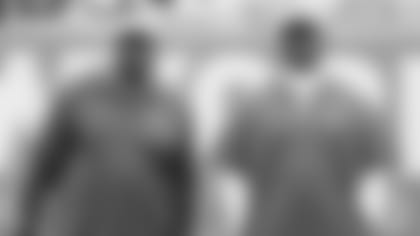 After missing two games due to an undisclosed illness, Jets defensive coordinator Kacy Rodgers rejoined the team Monday.
"He's been cleared and he should be ready to go," head coach Todd Bowles said on a conference call with reporters. "We'll ease him in slowly and depending on how he feels. He's doing a lot better."
Rodgers was a "casual observer" Sunday and broke down the team after its 42-34 victory over the Colts. Bowles said Rodgers will coach against the Vikings in Week 7, but it's too early to tell if he'll resume his play-calling responsibilities. Regardless, the coaches and players are thrilled to have Rodgers back for a normal work week.
"We're glad to have him back," said inside linebacker Darron Lee, who recorded his third interception of the season during Sunday's triumph. "He was going through a moment there and we're just glad to have him back. We're happy to proceed on with our full staff."
Veteran defensive lineman Steve McLendon added, "He's a great spirit, a great energy and a great coach. For me, it's always awesome to see a guy come back especially for the things that he's been through in the past two weeks. He gets to come back to the game that he loves. My only concern is as long as he has health. That's all that matters."
Rodgers is scheduled to talk to the media Thursday for his weekly spot and will determine whether or not to disclose what forced him away from football for a couple weeks. Bowles said it's a relief to have Rodgers back both as a friend and a colleague as the two worked together for the Cowboys from 2005-07, for the Dolphins from 2008-11 and have also paired up with the Green & White since 2015.
"It's personally first, it's not even about being professional," Bowles said. "Anytime you get somebody that gets sick on you or has some type of illness, you kind of worry about them full-heartedly. The job doesn't matter, it's all about the person getting healthy. So, it's just a big relief for us."
Jetcetera
Bowles did not release further information on a number of injuries: S Marcus Maye (hand), CB Trumaine Johnson (quad) WR Quincy Enunwa (ankle sprain) and WR Terrelle Pryor (groin). … CB Buster Skrine remains in concussion protocol after not playing Sunday. S Rontez Miles (PUP) and RB Eli McGuire (IR) are eligible to return to practice this week.