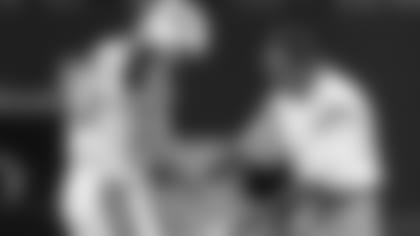 The New York Jets family and the Professional Football Athletic Trainers Society today are mourning the passing of former athletic trainer David Price, who died Wednesday at the age of 58.
"David was a tireless worker, and in terms of his skill and professionalism, he was tops," said John Mellody, the Jets' current head athletic trainer who accompanied Price to the Jets in '96. "He was a mentor and a friend to so many athletic trainers."
Price was the Jets' head athletic trainer and eventually also senior director, sports medicine and rehabilitation, from 1996-2005. He came to the Jets from the Eagles in 1996 under head coach Rich Kotite, then worked under Bill Parcells from 1997-99, Al Groh in 2000, and Herm Edwards from 2001-05. He then went to Kansas City when Edwards was named head coach there, and remained with the Chiefs through 2012.
Before the Jets, Price spent 10 seasons as assistant trainer with Philadelphia under the legendary Eagles athletic trainer Otho Davis. And from 1983-85 Price also served as head athletic trainer for the USFL's Philadelphia/Baltimore Stars.
Following Davis' lead, Price established internship programs at his different NFL stops for young athletic trainers to gain experience at the NFL level.
"Dave opened many doors for future athletic trainers around the league and around the country," Mellody recalled. "A lot of us, whether in the NCAA or in high schools or the pros, have the jobs we have because of him."
A Quakertown, PA, native, Price was a three-year starter at linebacker for Lock Haven University and earned his bachelor's degree in health and physical education with a specialization in sports medicine there.
Price, who was retired and living in North Carolina at the time of his passing, is survived by his wife, Jennifer, and his children, Kasey and Kristin. A memorial service will be scheduled for a future date.