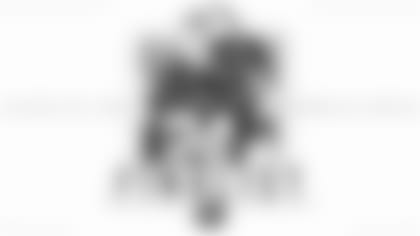 The Jets' former CB Darrelle Revis has been named one of 15 finalists for the Pro Football Hall of Fame 2023 class.
Revis, who was inducted into the Jets' Ring of Honor earlier this season, is one of five first-year eligible players. The 2023 Hall of Fame class will be revealed during NFL Honors, which will take place in the days leading up to Super Bowl LVII in Arizona. The class will then be inducted in August in Canton, OH.
In two stints with the Jets (2007-12, 2015-16), Revis recorded 25 interceptions and 112 pass defenses. A four-time first team All-Pro selection and seven-time Pro Bowl selection, Revis totaled 29 INTs and 140 pass defenses with four teams over 11 seasons.
The Jets made Revis, a University of Pittsburgh product, the first cornerback chosen in the 2007 NFL Draft. They moved up 11 spots in a trade with Carolina and took him with the No. 14 overall selection. He started quickly with 3 interceptions and 17 PDs his rookie campaign and then followed it with 5 interceptions and 16 PDs in Year 2.
"It's very surreal to me," Revis said leading up to his induction into the Ring of Honor. "All that hard work I put it, week in and week out, every Sunday just preparing the best I can to help us win, it's all coming to fruition and I appreciate you guys having my support along the way."
Revis, who tore his ACL in 2012, added a Super Bowl title to his résumé in 2014, after one season with the Buccaneers, when the Patriots topped the Seattle Seahawks in Super Bowl XLIX, which was, coincidentally, played in Arizona.
"I think first and foremost, my dream was to play in the National Football League," said Revis of a hat that read "chase your dreams" that he was wearing at banner unveiling at the Atlantic Health Jets Training Center in November. "Wearing that hat I think means chase your dreams that I've created. It's really for people to understand that through success and chasing your dreams, there are highs and lows. The struggles will come that you have to overcome to get to the mountaintop. I think throughout my career, I've been through those ups and downs, I've been through those struggles. Being on the island alone, you go into a place where you are there alone and I had to study a lot. For me, to be here sitting in front of you guys today is amazing. I just appreciate you guys and am enjoying my journey along the way."
Jets DL Joe Klecko, a key cog of the New York Sack Exchange, was named one of three Senior finalists over the summer. Klecko needs 80 percent of the votes when the selection committee holds its annual meeting in Arizona before Super Bowl LVII.
Best Images of No. 24 During His Time in the Green & White