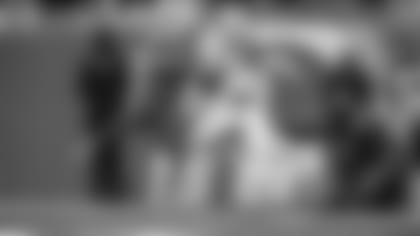 The Era of Sam started with an error, Sam Darnold's pix-six throw on the first scrimmage play of the Jets' season opener tonight against the Lions. But from then on, things began turning faster and faster the Green & White way.
The Jets got smart passing and running from Darnold, crazy running from Isaiah Crowell and Bilal Powell, TD grabs by Robby Anderson and Quincy Enunwa, two interceptions by LB Darron Lee, one for a pick-six, historic punt-returning by Andre Roberts back in one of his home offices in Ford Field, and perfect placekicking by late signee Jason Myers.
The final score was Jets 48, Lions 17 and it could've been even larger as Darnold kneeled down inside the Lions 10 before and after the two-minute warning. The victory set any number of records and distinctions in Green & White history. Primarily, even after three quarters they had already scored more points in a road game — not just an opener but any road game — in franchise history, eclipsing the 47 points the '68 team scored against the Boston Patriots at Birmingham, AL.
And of course the win started off the Jets' 2018 and the "Darnold Era" at 1-0, with their home opener against the Dolphins six days ahead on Sunday at MetLife Stadium.
Here are 10 chronological observations from tonight's remarkable season-opening win at Detroit:
1. Not How Sam Wanted to Start
Darnold took the game's first offensive snap, play-faked, rolled right and threw a looping pass left for Bilal Powell. Instead he found Lions CB Quandre Diggs, who had a clear path down his right sideline for the deflating interception-return TD and a 7-0 lead 20 seconds into the game. Darnold grimaced when the Ford Field PA announcer gleefully announced the pick-six.
2. Digging Back Out
Darnold bounced back OK with his second series, producing three first downs and his first two completions, to TEs Neal Sterling and Eric Tomlinson, before the drive stalled near midfield. Drive 3 was even better, given a big boost by Roberts' 43-yard punt return to the Detroit 32. Darnold and the offense survived a replay challenge by Lions first-year HC Matt Patricia on an Enunwa third-down catch. Then on the next play, Isaiah Crowell took the handoff off right guard, was hit but stretched for the goal line — and scored.
3. Two Quick Jacks
"New Jack City" was smokin' in the first half. S Jamal Adams got it started with a tackle for a 7-yard loss and CB Mo Claiborne had a PD. Then Claiborne, dropping to stay with dangerous WR Marvin Jones, leaped and plucked a Stafford pass at the Detroit 49. From there the offense moved in to position Myers for his 35-yard field goal on the first play of the second quarter and give the Jets their first lead at 10-7. Shortly after, CB Trumaine Johnson responded with his first pick as a Jet, but Tru gave it right back when WR Kenny Golladay popped him on the return and recovered the fumble.
4. Sam-Robby Connection
Roberts' second good return, this one for 16 yards, enabled Darnold and the Jets to start their third series in Detroit territory in a four-series span. It looked as if Bowles might have to decide to send Myers out for a 58-yard field goal try right after the two-minute warning, but Darnold made those thoughts disappear as he dropped back, pump-faked, then hit Anderson for a 41-yard touchdown, Darnold's first scoring strike as a pro and Anderson's eighth 40-yards-plus catch in his career. That made it 17-7 with 1:51 to play.
5. Midgame DB Woes
The Jets were losing DBs as the first half went on. Johnson left after getting jarred on his INT return/lost FUM. Then Buster Skrine took a friendly-fire hit from CB Darryl Roberts on a tackle. That brought rookie Parry Nickerson on for his first pro action as the Lions drove to a field goal to end the first half. Then to begin the second half, Johnson and Skrine returned but Stafford stayed hot with 4-for-4 passing, the last a 24-yard hookup to wide open Golden Tate over the middle to tie it back up at 17-17.
6. Q to the Rescue
But there was no quit in Darnold and the O, which drove 75 yards in six plays to a pretty-as-a-picture Sam toss to Enunwa, who celebrated his return to action in more than a year with his sixth catch of the night, featuring some spinning, relentless YAC to a stretch across the goal line for a 24-17 lead. We know it doesn't work this way but if we take away Darnold's first-pass INT, he completed 14 of 17 for 175 yards and two TDs, to the tune of a 148.8 passer rating.
7. Darron to be Great
Further quieting the Ford Field crowd down, three plays later, Stafford read man coverage but LB Darron Lee was in zone and he strode right through the Lions QB's short pass for Theo Riddick for the interception and a 36-yard return to paydirt. It was the Jets' first INT-return TD in 74 games, or since Antonio Allen pilfered a Tom Brady pass for a TD vs. New England in 2013, their first road pick-six since S LaRon Landry at Miami in 2012, and their first LB pick-six since David Harris on Sunday night at Baltimore in 2011.
8. More Happy Returns
Roberts was saving his best for the third quarter, when he took a Sam Martin punt veered right, then took off on a tightrope walk down the left sideline for a 78-yard punt return. Replay review confirmed he kept his feet inbounds all the way. That was the Jets' first PR score since Jeremy Kerley's 68-yarder vs. Buffalo in the 2012 opener. And that was followed by Lee's second career INT — which also happened to be his second in two third-quarter series tonight — to set up Myers' second FG and give the Green & White a 41-17 lead with 5:15 remaining ... in the third quarter.
9. Can't Cro Enough
Just when Jets fans were saying calm down and remember the Packers' fourth-quarter comeback the night before, off goes Crowell on a 62-yard jaunt off right tackle and down the right sideline, giving him 102 yards on 10 carries in his Green & White debut. That made it 48-17, giving the Jets their most points after three quarters in a season opener in franchise history. And their 31-point lead was the second-most after three in a season opener in franchise history behind only the Bill Parcells debut and a 41-3 lead at Seattle in 1997.
10. One Last Takeaway
The fourth quarter went scoreless but Adams added his first pro interception and the Jets' fifth takeaway of the game to put the crowning touch on the most complete game in Bowles' 49 games as head coach.