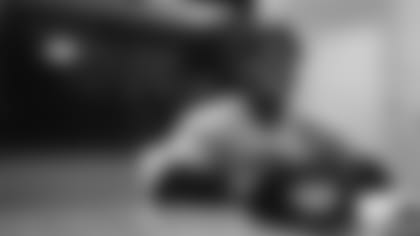 In the space of a couple of months, General Manager Joe Douglas and his staff; and Head Coach Robert Saleh and his staff have put down a foundation intended to propel the Jets into the future.
"I think they've got some foundation pieces now that they didn't have," NFL analyst Daniel Jeremiah told Eric Allen and Ethan Greenberg on The Jets Official Podcast. "They are on the line of scrimmage. One of the jewels he had was Quinnen Williams, who has a chance to be the second-best defensive tackle this year. Aaron Donald gets that room all to himself. Williams has a chance to be that second guy.
"You go out in free agency and accomplish what he did. You get a big-time rusher to put outside of Quinnen in Carl Lawson. There are weapons on offense, but there's work to be done. I feel like the foundation has been laid and you're going to start to see the progress on this team."
There is little doubt that Jeremiah, other analysts and the Jets braintrust believe that quarterback Zach Wilson, taken with the No. 2 overall pick, is the cornerstone. Even before the draft, Douglas did some spade work on the offense ahead of picking Wilson -- adding wide receivers Corey Davis and Keelan Cole, OL Dan Feeney, TE Tyler Kroft and RB Tevin Coleman. In the draft the Jets bolstered the offense around Wilson by taking OL Alijah Vera-Tucker, WR Elijah Moore and RB Michael Carter with their early picks.
About Wilson, Jeremiah said: "He's like a shortstop, super quick hands like Omar Vizquel and other great defensive players. All those guys all had dynamic quick hands. You watch Wilson and see the same things. One key is once his left hand comes off the football and the ball leaves his hand shows how dynamic his motion is. He has a strong arm. Definitely a plus arm, not Aaron Rodgers or Pat Mahomes type arm, but definitely in the upper echelon with those with so much velocity."
Jeremiah was especially effusive about the Jets' decision to move up to take Vera-Tucker (swapping first-round picks, and sending other draft choices to the Vikings) and was as surprised as Douglas and Saleh that Moore, the receiver from Ole Miss, was still available at pick No. 34.
"Vera-Tucker was one of cleanest in the draft, you know what you're getting," Jeremiah said. "With no combine, when you can find safe players in this draft you go get aggressive and go get him. I admire the fact they went after him. Now with their left side of line [AVT at guard with Mekhi Becton at tackle], people say they should run left all the time. The other thing is that with that type of power when you want to run right it's going to be like an avalanche collapsing down the line. [Running backs] will have cutbacks for days. They're really going to do some things in the run game with those guys."
The quick and sure-handed Moore flashed impressive skills in the college game and could give Wilson and the Jets a potent offensive option in the slot, outside or rambling out of the backfield.
"He's an easy player to love, the more I watch the more I like him," Jeremiah said. "I didn't see any chance he'd come out of the first round. That's what happens in the draft, a move here, a trade there and that's what happens. I thought the Jets were the benefactor. To me it was him and [Kadarius] Toney. I had him over Toney and the Giants [who took him No. 20 overall] felt otherwise. To me Moore has more natural hands and is more reliable. He's more precise as a route runner and more confident in his hands. I was shocked he was still there in the second round."