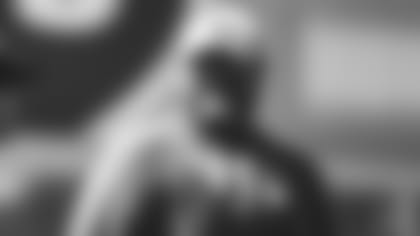 Most of us have a favorite time of year. Summer on the beach. Watching the leaves change color in autumn. The Christmas season. Spring break.
Yet for NFL Network analyst Daniel Jeremiah, the weeks leading up to the NFL Draft are "always my favorite time of the year." And that time is now, with the three-day draft extravaganza in Las Vegas beginning on Thursday and ending late on Saturday.
"I don't believe we're ever had more intrigue than we do this year with this draft," he said. "Eight teams having two [first-round] picks, it adds another layer to it, as well. I think it's going to be a memorable draft. It's going to be a lot of fun."
As one of those eight teams who, at present, have two first-round picks, the Jets (at No. 4 and No. 10, acquired from Seattle in the Jamal Adams trade) have multiple options, multiple scenarios and multiple questions as the start of the draft inches closer by the minute. (The other seven teams with double picks early are: the Giants, New Orleans, Philadelphia, Houston, Detroit, Kansas City and Green Bay.)
Jeremiah was asked during a media conference call with reporters from around the league how big the 2022 NFL Draft is for GM Joe Douglas and the Jets.
"I think it's everything," Jeremiah said. "It's huge. He's got to hit it in this draft and he's got the resources to do it, not just to -- even stick where he is. He's got opportunities to move around one way or the other and kind of put the master plan together here. This is going to be the draft to piggy-back last year.
"I think the early returns from that group are pretty positive. The quarterback [Zach Wilson] is TBD, but I think when you look at Elijah Moore, you look at the two Michael Carters and some of the things they got in that draft, [Alijah] Vera-Tucker is going to be a stud. I think they've started off well with that one and now they've got to hit it out of the park with this one.
"It's huge. It's important in terms of what I think they'll do or what I would do. I think you always are best served when you kind of stay best available. For me in my updated list that'll come out next week, I moved [CB] Sauce Gardner from No. 3 to No. 2 for me. [Edge] Aidan Hutchinson is No. 1. I don't think you'll see him. For me personally, Sauce Gardner, if he's there at No. 4 I'd turn the card in and get myself a real difference maker, and then you come back at 10 and if there's a [edge rusher] Jermaine Johnson there, that's an opportunity for you. If not, I would hope that you'd get a shot at one of those wideouts with Drake London being my second option and Garrett Wilson being my first option.
"But they've got to get difference-making players. They've got to get playmakers on this team. They've done a pretty solid job of building up kind of a foundation piece, but now you've got to get guys that teams fear. They've got to go get some of those guys in this draft."
The Jets recently made a run at one of the league's top "difference makers" in Tyreek Hill, but the Chiefs traded the WR to the Green & White's AFC East rival Miami. It has been reported that the Jets would be interested in trading for San Francisco's Deebo Samuel, should the 49ers decide to move him.
What has been obvious to most observers is that the Jets, in a draft rich with talent at wide receiver, could simply sit tight and get a WR with a first-round pick.
"The Jets kind of are one that stands out to me," Jeremiah said. "I guess I would be surprised if the Jets left those first two picks, 4 and 10, and they had the pick of the litter at No. 10 with all the wideouts still left, I would have a hard time believing that they don't walk away with that guy if that's the case."
For the Jets, the choice could come down to trading a bucket of assets for a player like Samuel or standing pat and grabbing a promising WR like Garrett Wilson (Ohio State) or Drake London (USC).
"I absolutely believe there are top 10 wideouts because I had Garrett Wilson as my fifth player in my final update, which comes out next week. I moved him up a spot. He is my fourth-highest rated player in this draft. Drake London is my seventh highest-rated player in this draft. I feel like they're two of the 10 best players. It just comes down to do these teams want to do that early.
"Depth has worked against wideouts recently where teams have -- look, the evidence is out there for all the hits in the second and third [rounds] and even beyond, but I think seeing the cost of these wideouts and what it's going to take to procure one of them on the open market, and that number gets north of $20 million. You look at somebody like Justin Jefferson who obviously is a great example, where he was picked in the draft, his average per year is like $3 million a year.
"So you get cost control on a player like that at that price for four years plus a fifth-year option versus having to go the veteran route and having to pay that huge, huge number to get a premium guy. If not pay him, then you've got to trade a bunch of assets to go get him. To me I think that's why this year we see wideouts get pushed up a little bit more maybe than in years past. I think we'll see six of them go in the first round."