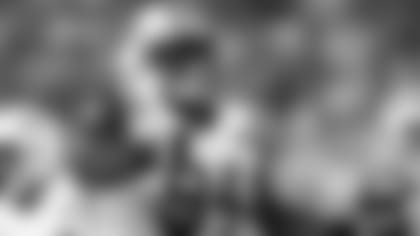 Snacks will no longer be served in the NFL. Damon Harrison has announced his retirement.
"Leaving out the same way I came in...with my head held high and unapologetic. ... Snacks OUT," Harrison tweeted this week.
How Harrison came in, of course, was with the Jets. The huge, fun-loving defensive tackle was signed after the 2012 NFL Draft as a free agent out of NAIA William Penn University in Oskaloosa, IA, and immediately became a favorite of then-Jets head coach Rex Ryan, who didn't need much prompting to refer to his nickname of "Snacks" or on occasion "Big Snacks."
"When I got here, I was about 355 pounds. I had to get down to 340," he said with a laugh. "They have Rice Krispies Treats around the building, so Coach Dunbar would grab a couple of them and sit them on my table, just to mess with me and kind of tease me. After that, the nickname just stuck around. He came up with it. He had so many crazy names for people."
At first, Harrison said he wasn't fond of the nickname, but said, "I've grown to like it because everybody in the building calls me 'Snacks.' I mean everybody. From the owner to the GM all the way down to the janitors and equipment guys, man."
And as one would expect from a big man with that nickname, he backed it up by feasting on NFL running backs and once in a while a tasty QB.
He didn't see much action as a rookie, but in 2013 he started to build his NFL career, posting 66 tackles, including an unofficial team-leading total of 17.5 tackles for loss/no gain in 16 starts at nose. He added 55 tackles in '14 and a Jets-career-high 72 tackles in 2015 and again led the defense with 14 tackles for loss/no gain and, factoring out the no-gains, a team-high 8.0 TFLs.
Harrison then became an unrestricted free agent and continued playing his impactful and fan-favorite game around the rest of the league. He started 39 games from 2016 through midseason 2018 with the Giants, moved on to Detroit for a season and a half, then finished his playing career with Seattle and Green Bay last season.
As a Jet, Harrison finished with 193 tackles, 34.0 tackles for loss/no gain and 1.5 sacks in 53 games and 48 starts — starting every game for three years. In '15 alone he forced opposing blockers into five holding penalties and an illegal-use-of-hands. For his nine-year NFL career, he totaled 494 tackles, 11.0 sacks, five forced fumbles, and even an interception as a Giant, all in 124 games (111 starts).
As he said in his farewell tweet:
"It's been real @NFL. thanks for giving a kid from the projects of New Iberia & Lake Charles Louisiana a chance. I made history!!!"
And among the reasons for those exclamation points was the "semper paratus" attitude Harrison brought with him every time he stepped on the field. As he said in that newyorkjets.com interview almost a decade ago.
"I'm very prepared, man," he said after making his Jets debut vs. the Houston Texans and before gearing up to get more action that rookie season and beyond. "I've been waiting a long time to get an opportunity, and I plan to make the most out of any situation I'm put in.
"Whether it's the first quarter or the last snap of the game, I'll be ready."