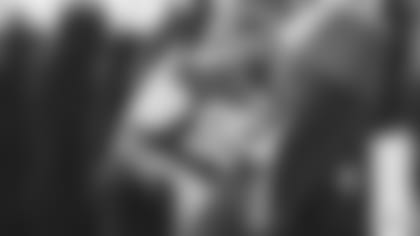 Damien Woody was a key cog in Rex Ryan's "Ground and Pound" offense that helped take the Jets to consecutive AFC championship games. As bullish as Woody is about the growth and depth of the forthcoming season's offensive front, he looks across that line in the sand at the defensive front and says he sees a group that is ready to "wreak havoc."
"Everything stands out," Woody said. "We've talked about how defensive rush and coverage go hand in hand. The Jets drafted both of them. They're super deep at the defensive line. [DE Carl] Lawson is coming back and healthy and he'll be next to Quinnen [Williams]. When you're surrounded by good players, it elevates your play.
"I think Quinnen is ready for a breakout year. And with John Franklin-Myers, [rookie] Jermaine Johnson, [Sheldon] Rankins, this is a very, very deep room. I don't even know if they all make the roster, there's that much competition. And the secondary, what I love about last year is that they played all those young guys, which now has created depth. Drafted [Sauce] Gardner, bringing in [CB D.J.] Reed in free agency and [S Jordan] Whitehead from Tampa Bay. All those young guys got playing time and the depth chart looks different than it did in 2021. I'm really excited about this defense."
In addition to the D-line players Woody mentioned, the Jets also signed in free agency Solomon Thomas and Jacob Martin, while adding DE Micheal Clemons in the draft. The club also re-signed Vinny Curry and is bringing back Bryce Huff, Nathan Shepherd and Jabari Zuniga, among others.
"For a guy like JFM, what he can really do is wreak havoc," Woody said on a recent edition of "The Official Jets Podcast." "He puts in the work on first and second down, then on third kicks inside where his advantage comes. The idea is to get your best rushers on the field. [Shaq] Lawson, Quinnen, JFM, a combination of other guys, Johnson, Clemons, Martin and the other guys humming after the quarterback. The D-line has a lot of variety, you can mix and match, you can keep guys fresh."
Reed and Gardner will contribute immediately at cornerback, with strong support from last season's contingent that included nickel Michael Carter II in addition to Bryce Hall and Brandin Echols. The safety room received a boost with the signing of Whitehead and the return from injury of veteran Lamarcus Joyner, with support from Ashtyn Davis, Jason Pinnock, Elijah Riley and Will Parks.
If there's a player on defense on the cusp of a breakout season, Woody said that it's linebacker Quincy Williams. Williams joined the Jets last August as a waiver claim and finished second on the team in tackles to LB running mate C.J. Mosley.
"I think he can be special," Woody said of Quinnen's younger brother. "He has unbelievable athletic ability, speed, violence as far as tackling. He's a guy who came to Jets late last summer and was still trying to figure out the system. He was running more on athletic ability, but now giving him the whole offseason to understand other nuances of playing in the system and playing with C.J., you now have a smarter guy ready to use his tools that make him an even better linebacker. I'm expecting huge things from Quincy."
As head coach Robert Saleh prepares for his, and his team's second season, they are liberated in a sense from last year's restrictions imposed to combat the coronavirus pandemic. The offseason blueprint has been more familiar to coaches and players with OTAs, minicamp and training camp slated to begin in late July.
"Coach Saleh has really been refreshing," Woody said. "What I love is the synergy between the front office and the coaching staff. I hear all the time Joe D talking about what Coach brought to his attention and Coach talking about how Joe involves him. There's a tremendous synergy between the two. It permeates the organization and for the first time in quite some time we're seeing everyone linked."
A Player's View of the Schedule
By some analysis, the Jets have one of the most difficult schedules among the 32 NFL teams. They open with four straight games against AFC North teams (Baltimore, Cleveland, Cincinnati, Pittsburgh ... in that order) and will face a handful of the league's elite quarterbacks.
"I would say the schedule-makers didn't do the Jets any favors," Woody said. "But if you aspire to take the leap that's what it is.
"One thing I talk about as a former player is that all we're concerned with is who we play in Week 1 and when the bye falls, and this year it's at a perfect time for the Jets [Week 10 in early November]. As players, we're told to breakdown the season into quarters. With the whole AFC North up first, you just try to win your quarter. That's how you get to the postseason tournament, where anything can happen."