You call him Brick or Iron Man, but whatever the material he's made out of, D'Brickashaw Ferguson has been an unmovable pillar for the Jets at left tackle.
"I don't know that I have a lot of control over it," Ferguson said with a chuckle at his locker today as he commented on the occasion of his upcoming 125th consecutive NFL start against the Raiders on Sunday. "I've been blessed not to be on the ground or hurt. I'm just happy I've been picked to play this position and to play it for so long. I'm still fighting every day to represent the left side."
Even head coach Rex Ryan, who wasn't going to name any more starters at today's news conference than Geno Smith and Ed Reed, confirmed in a question about Dee Milliner's status that Brick would indeed be the LT starter.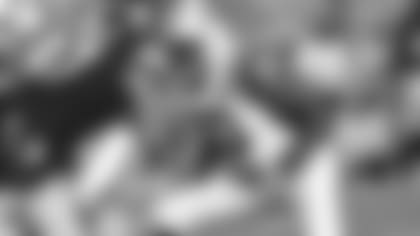 "He's going to start his 125th consecutive game," Ryan said. "He's started every game since his rookie year. That's the first Jet in the history of this franchise to start 125 consecutive games. Really, I appreciate you bringing that up, giving me the opportunity to fire that out there without answering the question."
Ferguson has not just cornered the starts market on our team but holds a few more distinctions in the NFL that are worth considering:
■ His 124 consecutive regular-season games played in are the most among all active tackles and tied for second among all active O-linemen behind only Texans C Chris Myers' 133 games.
■ Ferg's 124 straight RS starts are the most not only among active tackles but also among active linemen (Myers has 108 straight starts).
■ What's more, D'Brickashaw Ferguson has the longest consecutive-starts streak from the start of his career among all active NFL players. The only players with start streaks as long or longer are the Giants' Eli Manning (147), the Chargers' Philip Rivers (also 124) and ageless Redskins LB London Fletcher (211). And none of those three started his streak from Game 1 of his career.
And Brick's streaks don't include the seven playoff games he started in '06, '09 and '10 combined.
A reporter asked him what it took to make it to 125 straight. Ferguson answered with Steven Wright logic, "About eight years." But seriously, folks, Brick expressed his sincere appreciation for the kudos he was receiving from coach and media.
"I feel good," said the in fact eighth-year pro out of Freeport, NY, by way of the University of Virginia. "I was drafted by this organization, they believed I could play this position, and I've been trying to work hard ever since to prove them right. It's definitely been a wonderful experience. It has highs and lows, but the challenge is always great, and that's something every week you're faced with, going up against the top defenders in this league."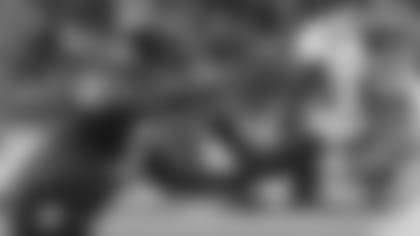 Ferguson was asked about the man whose blind side he's been protecting, Geno Smith, who has his own much shorter and shakier start-of-career starting streak at 12 games going on 13. Brick spoke up for his quarterback.
"Throughout the season there's always an ebb and flow," he said. "This is not uncharacteristic of some of our other seasons. It's how we respond to adversity that really shows the character of a team. We have an opportunity to really show what we are. I think we have a great locker room, Geno's great, and I think we have to continue to work hard make this one ours this week."
Geno's great? In what way? My good friend Steve Serby asked Brick.
"He's a poised player, he fights under adversity" was the reply. "It was back in the first Buffalo game that he was setting records. It's not as though he hasn't accomplished some great things in this league. It's just a matter of everybody being on the same page and fighting through adversity."
Bear with us here, but just perhaps Ferguson is onto something. Rex Ryan said today's practice at the Atlantic Health Jets Training Center was "probably the best day of practice we've had offensively" this season and that it was Smith's best practice "absolutely."
"Yeah, we were out there trying to work hard," D'Brickashaw Ferguson summed up. "We were able to click today. We just want that to translate to execution on Sunday."
First Jets injury list of the week:Did Not Participate — TE Kellen Winslow. Limited — CB Antonio Cromartie (hip), WR Santonio Holmes (foot/hamstring), WR Jeremy Kerley (elbow) and DE Muhammad Wilkerson (wrist). Geno Smith is also listed, as fully participating but with a right wrist injury. Today's full Jets injury report can be found here.
The Raiders' report lists 11 plays. Six were DNPs, including RB Darren McFadden (ankle), WR Denarius Moore (shoulder) and S Usama Young (neck). Five others were limited, including RB Rashad Jennings (concussion), S Tyvon Branch (ankle) and LE Jason Hunter (foot).
We signed LB Tim Fugger (6'4", 250), pronounced FEW-ger, to our practice squad to take the place of LB Danny Lansanah, who was signed to the Buccaneers' active roster.