With the NFL Combine concluded, many collegiate players will now set their focus on another important event — the NFL Draft. The draft is an intense atmosphere filled with fans, NFL teams and players all across the country, waiting to hear where this year's best collegiate football players will land.
As a former participant in the draft, I can remember the days that led up to my fourth overall selection in 2006.
My first memory of that draft was talking to Gil Brandt, who at the time was responsible for inviting players to the draft and who expressed his desire to have me come to Radio City Music Hall. I was excited that I would potentially walk across the stage and shake then-NFL commissioner Paul Tagliabue's hand and hold up my new team's jersey.
I invited former coaches, friends and family to come experience the draft with me. Although there was much speculation about where I was going to land that year, no one really knows except the drafting teams where a player will go. I had played four seasons at the University of Virginia and I could potentially play anywhere across the country.
Before the draft, I had the opportunity to visit several NFL teams. It reminded me much of my college visits, although this time I would not be able to choose the team that I would eventually play for.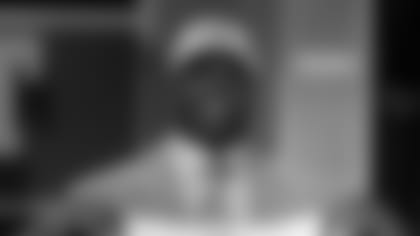 I visited the Lions, Eagles, Saints and Jets. I was amazed to see each organization's facilities and also how each team went about its daily operations. My visits weren't simply tours. Rather, each tour gave that organization a chance to better evaluate me as a person and player. After all my visits I still had no clue where I would potentially be selected.
When I came to New York, I stayed at the W hotel at Union Square. It soon became one of my favorite hotels. I had a room on one of the top floors overlooking the city — it was amazing. Now all I needed to do was pick out my outfit. With the help of Jared M. clothiers, I selected my draft day suit. I picked out my cognac-colored shoes and made sure they coordinated with my watch.
I was ready. I had done all that I could do and now I just had to wait.
The next day, I arrived at Radio City. There with me were other NFL hopefuls like myself. Reggie Bush, Mario Williams, Vince Young and Vernon Davis were some of the guys in the green room all waiting to hear their names called.
The first of us to get that call would be Mario Williams. I was happy to see him get selected, but it still was a very tense atmosphere. As each player began to get selected more and more butterflies would fill my stomach as I tried to imagine what would lie in store for me.
When the New York Jets were on the clock, I received a call. It was Eric Mangini, head coach of the Jets, and Mike Tannenbaum, the general manager. They asked me if I was ready to be a member of the New York Jets. I was sooooo nervous, but I said yes.
Shortly thereafter, Paul Tagliabue announced, "In the 2006 NFL Draft, with the fourth pick the New York Jets select D'Brickashaw Ferguson from the University of Virginia." I can remember walking across that stage, cheers from the audience and the biggest smile across my face.
I achieved something great on that day. I had my family, former coaches and friends on the stage with me and it was one of the happiest moments I can remember. The NFL Draft is a special time for many players, and it was especially pleasing to me.
READ: Has the Write Stuff