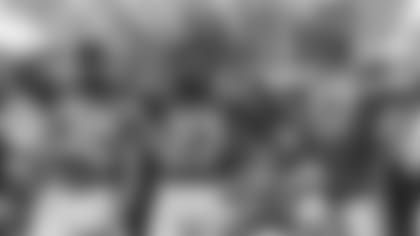 Down three of their four top cornerbacks – D.J. Reed (concussion), Sauce Gardner (concussion) and Brandin Echols (hamstring) – against the defending NFC champion Eagles last Sunday, HC Robert Saleh and the Jets leaned on their backups Craig James and Ke'Montae (Tae) Hayes.
And despite limited prep time and uncertainty surrounding the starter's health days before kickoff, James and Hayes put together strong performances to help hold Pro Bowl QB Jalen Hurts to 268 yards passing while the defense picked off three passes in the Jets' Week 6 win.
"I thought Craig James was fearless," Saleh said. "He had a huge pass breakup in the end zone. Had a couple of nice tackles. Tae Hayes has only been here a couple of weeks and learned our system, which is complicated from a zone standpoint. It's not like you're coming out here playing man. He has to learn it all. Kudos to them."
The Jets signed James and Hayes to the practice squad on Oct. 3 after Reed and Echols sustained injuries against the Chiefs in Week 4.
James spent training camp with the Jets and was released and re-signed to the practice squad on Aug. 29 before being released and re-signed again. He was then elevated to the active roster against Denver in Week 5 and played 1 snap.
"In the game of football, it is a roller coaster ride with the ups and downs," James said. "But I am a very chill person. No emotions flared up, up or down. You don't want to be on that roller coaster. You want to be constant."
Hayes spent training camp with the Ravens before being cut in September. And since joining the Jets, has had about a week and half to learn the complex zone defense that requires players to play multiple positions.
"It wasn't easy," Hayes said. "And I wanted to come in and play, but defense is something that you got to learn. But we have got good players around and they made learning easy. There's just a lot going on within this his defense. Everybody does everything. A linebacker might do what a safety does, and a safety might do what a linebacker does. We all have to know damn near every position on the field which is the tough part."
Last Friday, Gardner was added on the injury report with an illness and Reed was ruled out for Sunday's game. Gardner was then ruled out on Saturday and Hayes and James were elevated to the active roster to take on the NFL's No. 5 offense in points per game (25.8).
"The whole situation was crazy," James said. "With Sauce going down so late in the week after he had practiced all week. But I felt our room is genuine, it was easy to build chemistry. For example, Tae's first day here we started playing rock, paper, scissors and we just loved to compete and get better, and we took that into practice and the meeting rooms. The room is so genuine and there is so much love that it wasn't hard to build chemistry."
Hayes added: "It has definitely been a whirlwind. It has just been a lot going on and a lot of emotions."
In the Jets victory, James played 41 snaps (59%) – the third-most among the Jets CBs – registered a pass breakup and posted a 79.8 grade according to Pro Football Focus. With 4:02 left in the first quarter, James dove and broke up a pass in the back of the end zone, an adjustment he made in practice during the week.
"In practice last week I had a similar situation where I took my eyes off the receivers and they scored," James said. "And you would rather have those mistakes happen in practice than a game. And on gameday I was locked in and said I can't get fooled again. I just had great discipline and finished the play."
Hayes played 13 snaps (19%), finished the game with 3 tackles and battled Eagles Pro Bowl WRs A.J. Brown and DeVonta Smith.
"There were definitely situations I wanted to be better in last night," Hayes said on Monday. "But I felt like I at least was ready to play. Some of the plays I wish I had executed better but they have got some good receivers and sometimes they are just going to catch some throws. But as far as me competing and knowing what to do, I didn't really give up too much and I think I showed I could do that in practice."
Headed into the bye, Saleh and the Jets hope to get their starters healthy, but can revel in the idea that they have reliable depth in the secondary.
"There is no fear in our guys," Saleh said. "I've always said, 'You go tell a backup that he's a backup and that he doesn't deserve to be a starter.' Those guys came out there and balled."