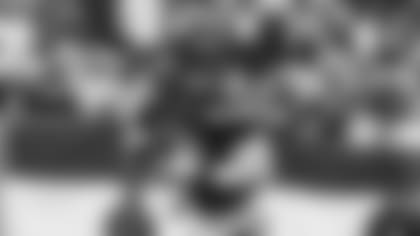 The Jets have a need at receiver and it's been well-documented that the 2020 wideout draft class has the potential to be historically good. But the Green & White also could be looking to fill a void behind Le'Veon Bell in the draft and this year's running back group is quietly a strong one as well.
"It's a good group," Bleacher Report's Matt Miller said of the backs during a recent appearance on The Official Jets Podcast. "I put a starting grade on seven players, and then I put a high-level contributor grade on five more. So you're at 12-13 running backs, who I believe as rookies, can be high-level contributors. So I think it's a very good class."
The Jets own eight draft picks including four in the first three rounds (Nos. 11, 48, 68 and 79). D'Andre Swift (Georgia) may be the only back taken in the first round while J.K. Dobbins (Ohio State), Clyde Edwards-Helaire (LSU) and Jonathan Taylor (Wisconsin) could be top 50 picks, but there is depth down the line.
"I'm still a believer in Cam Akers coming out of Florida State, I think he can be a starter in the NFL," Miller said of the 5'10", 217-pounder. "I guarantee you he will never run behind a worse offensive line than he did in college. Zack Moss at Utah, he's a punishing, powerful guy. Ke'Shawn Vaughn from Vanderbilt, excellent receiver out of the backfield with some big-play speed. So there are some good running backs and whether the Jets value that early with Le'Veon Bell coming back or not, it's still a good year to get a good complementary back or someone who you believe could down the road become a starter."
Jets GM Joe Douglas said in February that he's excited to have Bell and the 28-year-old remains one of the most talented backs in football. He averaged a career-low 3.2 yards per carry last year, but the Green & White used 11 offensive line starters and nine combinations up front. Bell finished second on the offense with 66 receptions and he is a fantastic pass blocker. Both of his backups from last season — Ty Montgomery and Bilal Powell — are unrestricted free agents.
"I think Cam Akers in a lot of ways is a poor man's Le'Veon Bell. You want that outsize zone runner who's going to be exceptional on wheel routes, getting out to the flats, being a safety valve for the quarterback in the passing game. I love that about Cam Akers," Miller said. "I think had he been at an LSU or an Alabama, we would be talking much more about his production. Unfortunately of the running backs that I've studied, no one had a worse offensive line than he did in 2018 and '19. So I think you're getting a really nice blend of vision, contact balance and power with enough speed where you get him on the outside, on the corner, he has that ability to make daylight runs where he's going to get to the open field and he's going to get to the end zone."
Last year, Akers rushed for 1,144 yards and 14 touchdowns. His 2,874 rushing yards and 11 100-yard games rank sixth in FSU history. He could go in Round 2 and there will be interesting options down the line for clubs including the likes of Boston College's A.J. Dillon, Maryland's Anthony McFarland Jr., Florida's Lamical Perine and Arizona State's Eno Benjamin.
"With Eno Benjamin, he is a smaller guy who is someone I would not project to be a feature back or a 20-touch, -carry guy. But as a complement to Le'Veon Bell, Eno's going to give you a little bit more of a spark, a little bit more flash but also just what he can bring to the table as a pass catcher," Miller said of Benjamin, who had 42 receptions last season while averaging 8.3 yards a catch. "He's got to get better in pass protection. I think that's the biggest issue with Eno Benjamin. We saw the production especially as a receiver in 2019 was fantastic, but he is not ready right now to stack up against blitzers in the NFL and be able to protect a Sam Darnold. He is a little bit of a development guy but has some tools that I really like."