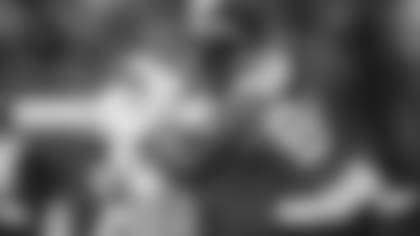 The Jets offense has at times in recent years prompted terse analysis from fans. But WR Corey Davis' take from the sidelines on his unit's performance the past two games, while sounding familiar, had a whole different meaning.
"Definitely at times it was hard to watch," Davis said after Wednesday's practice. "I was like, 'Dang, I wish I could be out there.' "
Davis got his hip problem at the wrong time, in practice before the home matchup with Cincinnati. His two-game hiatus came right before the Jets were up-up-up in their 34-31 win over Cincinnati, then down for their 45-30 loss at Indianapolis. Despite the uneven results, they put together two very promising offensive games, featuring combined totals of 64 points, 997 total yards, 834 gross passing yards, 812 net passing yards, 62 first downs ...
"The boys have been starting off faster," said "big brother" Davis, the team's No. 1 wideout who, despite his injury time, still leads the Green & White with 349 receiving yards and four touchdowns, all on 24 catches. "We obviously still have to pick that up, but just the execution and the details have been really good. The boys have been pretty locked in and Mike's been doing a good job of getting guys where they're supposed to be. It's good to see. Hopefully I can help out a little bit."
No doubt Davis can pitch in, especially because even though Mike White was a little-known, non-playing third-year backup to Zach Wilson before the Bengals game, Davis and White have worked enough together to know that they'll be able to find each other in his return for the Bills at MetLife Stadium on Sunday
"I definitely got some work with Mike, especially in the offseason," he said. "We met up a couple of times, all the quarterbacks and every receiver. I'm definitely familiar with Mike. I love Mike and I love what he's doing, so we're behind him."
The majority of media questions for head coach Robert Saleh and players Wednesday were not about Davis but about the QBs. With White recovered from his right arm nerve contusion, Wilson continuing to rehab his knee, and Josh Johnson caught in an injury numbers game on the practice squad because he'd been elevated the maximum two times, Saleh has come up with his third different game QB depth chart for visiting Buffalo on Sunday: White for his third start and recent trade acquisition Joe Flacco as the backup.
Davis got his own share of White/Wilson hypotheticals and gave an honest yet still diplomatic answer about what he sees of the quarterback situation from his nearby position.
"There are both sides of it, where Zach is going to have some growing pains — and we understood that — and the way Mike has been playing, doing really good things," he said. "But our perspective is I've got to do my job, whichever quarterback is in there. We trust the coaches to make the right choice at quarterback and I've just got to do my job and do the best that I can."
Davis' best, and top efforts from the rest of the Jets' productive wideout corps, will be required against Buffalo's defense, No. 1 in the NFL overall and in pass defense, both in yards/game and yards/play, and led by two-time Pro Bowl corner Tre'Davious White.
"I love it, I'm real excited for it," Davis said of his anticipated run-ins with the Bills' White. "Tre is one of the top corners in this league. He's physical, he's fast. I'm pretty familiar with him, having played him a couple of times. His style of play, he's real good. It's going to take a good game to go out there and do what we've got to do."
No doubt the Bills secondary will be a tall wall to scale, but meanwhile, the Jets WRs were also tough for the Bengals and Colts to contain. And now Davis returns to the mix, and while he's hip to concerns about his health, he said his injury will be a non-factor.
"It feels good. I was out there running around today, full throttle," he said. "It's good to be back."
See the Top Practice Images from Wednesday of Bills Week at 1 Jets Drive