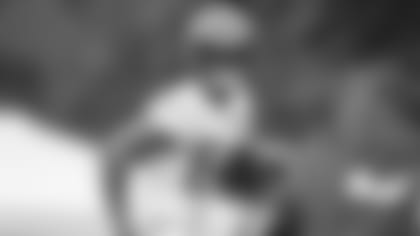 Jets wide receiver Corey Davis believed he was in the ballpark for the first 1,000-yard receiving season of his five-year NFL career. Signed in free agency after four years with the Titans, Davis amassed 349 receiving yards through the Green & White's first six games of the 2021 NFL season. That number included a 4-catch, 111-yard performance in an overtime victory against his former team -- an output that included a stunning fourth-quarter, 53-yard TD connection with quarterback Zach Wilson.
Two games later, Davis was sidelined with a hip injury. He missed a pair of contests, was back for a pair, missed the victory at Houston with a groin injury, then played in one more game before going on the injured list headed for core muscle (also called a sports hernia) surgery that caused him to miss the Jets' last five games of the season.
"It was a pretty serious injury," Davis, 27, told senior team reporter Eric Allen on this week's edition of "The Official Jets Podcast." "Moreso like a groin, but with the core I had to have both repaired. I couldn't lift my legs afterward. I had been fighting through it for a few weeks [during the season], but it kept getting worse.
"It was tough to try and play. Knowing you have something that doesn't feel right, in the back of your head hinders you a little bit. I tried to break through mentally, I tried to stay in it, but I could only do so much with that injury. I was fighting three or four weeks with it, but had to shut it down. After I got injured I was down on myself, a little depressed. I learned mental toughness and came out the other side better for it."
That long TD pass from Wilson against the Titans was a small taste of the professional relationship growing between Wilson and Davis. As Davis (6-3, 209) returned to training in the offseason, Wilson dropped in on him in Nashville as part of the second-year quarterback's coast-to-coast team-building effort with a bunch of his playmakers. For Davis, Wilson has shown he's a quality QB and a quality person.
"We have a lot of trust, we're working on it everyday," Davis said. "I'm glad we have that guy on our side. He's a great talent, a great quarterback and really good people. That's what you want in a quarterback, to have that trust in you and it's my job to be at that spot and to get the timing down so he knows where I'm going to be."
In addition to checking in with Davis in Nashville, Wilson traveled to California, Arizona and Florida to work with his receivers in the offseason. Wilson's commitment was not lost on Davis.
"He was on tour this offseason, that's the thing about him, he's going to find you and work -- regardless," Davis said of Wilson. "He's a workhorse and loves to work with his guys. He loves to work. What he did this offseason says a lot about who he is and the type of leader he is. He came to Nashville and we got in a couple days of really good work. I'm glad he did it and it's really going to pay off."
He added: "He's serious about it. The fact that he's hopping on a plane, going across the country and traveling to different guys says how serious he is and what type of leader he is. He's competitive. He's a perfectionist and that's what you want in a quarterback. He's a workhorse and he's going to go get it."
With training camp set to open on July 26, Davis will find himself as part of a deep and group of receivers. The Jets plucked Ohio State WR Garrett Wilson with their second pick in the first round of the 2022 NFL Draft. The team signed a pair of tight ends in C.J. Uzomah and Tyler Conklin; and re-signed the versatile Braxton Berrios. Elijah Moore, who showed great moves and promise before sustaining a late season-ending injury, returns as do Denzel Mims and Jeff Smith. Though slot receiver Jamison Crowder left in free agency, signing with Buffalo, Davis is energized by the flexibility and versatility of his receiving teammates.
"We can be dangerous, we have a lot of weapons and a lot of different guys who can do different things," Davis said. "Adding Garrett, bringing back B [Berrios], they're added weapons, we all bring different things to the table. I'm happy we got G, man that dude can do it all. I'm out there watching him run routes [during OTAs and minicamp] and saying to him 'man, I don't know how you move like that.' He's in and out of breaks. He's special. Man, I'm glad he's on our side. He's going to be a great wideout."
With Crowder gone after spending three seasons in the slot with the Jets, Davis sees a lot of opportunity for the speedy Moore, but also is eager to see what offensive coordinator Mike LaFleur can conjure to befuddle opposing defenses.
"He's an aggressive play caller, not afraid to take a shot. That's something you want, it shows he has trust in us," said Davis, who also played under Packers HC Matt LaFleur when Mike's older brother was the OC with the Titans.
Davis said that the Jets will have multiple options in the slot and out wide. He's even volunteered to take his turn inside.
"I love it [the slot]," he said. "Anyone of our guys can play anywhere, we've got a group of dudes who can do it all. You want guys who can move around and that's what we have. I love it, there'll be a mismatch with the 'backers and playing between the hashes you have to get your mind right. Whatever you need I'm going to go get it."
After playing in only 9 games last season and catching 4 TD passes, Davis said that he's committed to showing what he can do and prove himself a valuable member of the Green & White.
"I just have to put my head down and keep working," he said. "I'm doing extra stuff to put myself in position to win and win big. I want to prove to this league that I can do that each and every game."