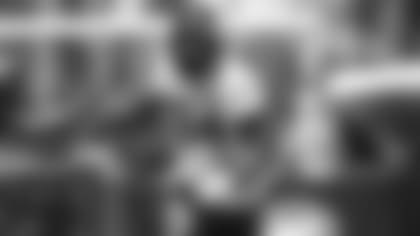 Corey Davis said that he was "getting bored" as his Jets teammates went through their paces in this week's mandatory minicamp. Davis was being brought along slowly after dealing with a minor shoulder injury early in voluntary OTAs -- eventually getting some time catching balls on the grass.
"It feels great being out there with my teammates, working on my game and growing every day," Davis said on Wednesday as the Jets completed the second, and final day or minicamp workouts.
Davis, who was signed as a free agent from the Tennessee Titans, is expected to be a key cog in the Jets' revamped offense, which includes rookie quarterback Zach Wilson. In their short time together on the practice field, the rookie and the veteran receiver have begun to forge a relationship. On Tuesday, Wilson connected with Davis for ae gain.
"He looks good," Davis said about the No. 2 overall pick in the 2021 NFL Draft. "Obviously, coming in as a rookie he's going to be spending time getting up to speed. But he's handled it all really well. He's poised, always trying to learn and further his game and pick up the playbook. He's definitely a guy who's going to work at it extremely hard until he gets it down. As I said, I'm excited to get to work with that guy."
Davis is now part of a strengthened and improved wide receivers room. The suddenly deep group, in addition to Davis, includes Jamison Crowder, Denzel Mims, Keelan Cole, Braxton Berrios, Vyncint Smith and rookie Elijah Moore.
"We definitely have potential, just looking around the wide receivers room we have guys who can do different things for us," Davis said. "Especially with Crowder back, Elijah and Mims making plays, it was great to see. I'm really excited."
Davis was one of the first free agents signed by General Manager Joe Douglas as he and Head Coach Robert Saleh (and his staff) proceeded in revamping and improving the Jets' roster.
Davis (6-3, 209) was drafted No. 5 overall in 2017 out of Western Michigan and had a decent season – he had 34 receptions, 375 yards in 11 games (9 starts). He didn't score a touchdown until his second year when he broke out (65 rec, 891 yards, 4 TDs) with offensive coordinator Mike LaFleur's brother, Matt, who was hired as the offensive coordinator for the Titans in 2018. Matt left after one season in Tennessee to become Green Bay's head coach.
Davis is coming off his best pro season and was 16 yards shy of reaching 1,000 yards. His 5 TDs was a career high and he tied a career high with 65 catches.
The offensive scheme the Jets are implementing comes from the "Shanahan tree," as Davis said, which should be a good fit.
"Corey could be good in any system," LaFleur said recently. "I just think he's really good in this system because he's got physicality, he's got size, he can put his foot in the ground, one-foot cut and separate. That's what this offense kind of started to become. It's a lot of just one-foot cut, separate, let's get the ball and go.
"And when you have a guy that can put his foot in the ground sharply, still run away from you, catch the ball, our quarterbacks feel that guy. You can feel him going over the middle. You feel like he's got a big radius and on top of it, he's fearless. The reason you know that is because you've seen it on tape. Corey can be successful anywhere. He's made up of all the right stuff, but I do think this system fits him really well."
Davis said he's excited about the coming season and even though the team is off for more than a month between minicamp and training camp (which is scheduled to begin on July 27), he said he has no plans to kick back and take it easy.
"For me personally, I don't take a break," he said. "It is such a short time, I have the momentum and conditioning and you have to keep working on your game. It's only 40 days until we come back. You have to hone your skills and keep working on your game every day. Then hit the ground running."