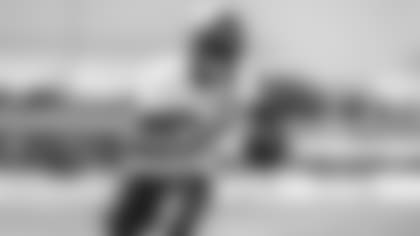 At 27 and beginning his sixth NFL season, Jets WR Corey Davis is still learning. But playing in a receiving corps with an average age of 24, he has embraced teaching and leadering at training camp.
"I definitely view myself as a leader, just trying to bring guys along with and trying to teach them what I know," he said after Thursday's practice. "I have been in the league a little bit and we have made some playoff runs. I know what it takes to kind of go far in this league. Whatever I can tell these guys, teach these guys, I am definitely going to do that."
Davis returned to the field this spring after missing the final five games of last season after core muscle surgery. In addition to catching a couple of passes during team drills, Davis has advised younger receivers after reps in hopes their talent will "open up" the offense.
"We have got a lot of dudes on the field that can do really a lot with the ball and that helps everyone," he said. "The pass is going to complement the run, and the run is going to complement the pass."
Head coach Robert Saleh is delighted to see Davis attacking the start of the season with a "tremendous new mindset."
"It is a very young group we have over there with the receiving corps, but to have [Davis] back is great," Saleh said. "He is in such a good mental headspace right now. His body feels good, and he feels good."
In his first season with the Jets, Davis hauled in 34 passes for 492 yards (14.5 yards a catch) with 4 TDs in nine games. He battled a hip injury for three weeks before the core muscle ailment required surgery. Over the summer, Davis ran to improve his durability and the number of plays he can run consecutively.
Down by 15 pounds to 205 from last year, Davis said: "I was doing a lot, a lot of running. I am just trying to run for days. Run a go-ball, come back and run another one. That was kind of my main focus, get in the best shape that I can and hit the ground running.
"I have never really had a season-ending injury like that, so it was definitely an adjustment to keep my mind in the right places."
After establishing good chemistry with QB Zach Wilson in the passer's rookie year, Davis has seen Wilson's growth early in Year Two.
"Zach is a great leader and definitely coming into his own," he said. "He is out there encouraging everyone, being a great leader and just bringing guys along with him. In the huddle, he has definitely made some steps from last year and communicating more."
See the Green & White on the field during Day 2 of Jets Training Camp.