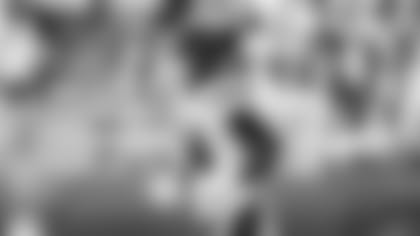 Jets wide receiver Corey Davis recognizes that numbers rarely lie and the truth hurts. They may be clichés, but for the Green & White uncomfortable facts are still facts.
"The thing is, we know we're a better team than 1-4, so that's what the energy is like in the locker room," Davis said after Sunday's 27-20 loss to Atlanta in London. "Dudes are disappointed and angry, all types of emotions, because we know we're better than what we are displaying. We haven't even played our best ball yet. We have to go back to the drawing board and don't press the issue."
The Jets have a week off (before playing at New England on Oct. 24) to try and sort out what has gone wrong early in games. Again on Sunday, the offense could not get on track in the game's first 30 minutes, gaining 80 yards in the first half with 5 first downs as the Falcons amassed 251 yards and 17 first downs, taking a 20-3 lead. Overall this season, the Jets have been outscored by 30-0 in the first quarter (5 first downs in five games) and 75-13 in the first half.
"We have to come out slinging it from the beginning," said rookie QB Zach Wilson, who was 5 of 13 for 42 yards and an INT in the first half. "I have to come out and just throw that thing and make the right reads. I missed some throws. I can't come out and miss throws. They're not throws that are hard. The coaches are putting us in a good position. We just have to get some momentum going."
For Davis, who was targeted 7 times against Atlanta and had 4 receptions for 45 yards, the team's lack of production early in games is mystifying and concerning.
"There were a lot of self-inflicted things," he said. "You have to give them credit, but they didn't do anything to stop us in the first half, we did that ourselves."
The Jets have not scored on their first possession in any game during the 2021 NFL season. Against Atlanta, they went three-and-out on their first two possessions, picking up 8 yards and using only 3:30 as Matt Ryan and the Falcons bossed the game early on, scoring on their first three drives, building a 17-0 lead that proved to be insurmountable.
"We just have to settle in, especially in the first half, and relax," Davis said. "We come out in the second half and it's a whole different ball game, different energy. We have to have that in the first half to have a better chance."
Davis added: "It is deflating. My job as a leader and the entire offense to stay in it and not let the threes-and-out deflate us, like it did today."
After defeating Tennessee in overtime, the Jets' trip to England afforded the team a chance to pick up a second straight victory and head into their week off on the upswing. Now head coach Robert Saleh, his staff and the players have to find a way to kickstart the offense from the get-go.
"We just couldn't get momentum going and we couldn't convert on some third and shorts, and defensively we just couldn't get off the field," Saleh said. "So there was no chance for anyone to get into a rhythm in the first half, and then in the second half it started to pick up. Defense gets the stop and offense starts moving the ball, and too little, too late."
Davis, who leads the team with 3 TD receptions, said that he knows he can, and should do better, conceding that any pass the comes his way should be snared.
"Obviously I want to make every catch," he said. "Yeah they're hard, but I expect to make everything thrown my way. I expect to make it.
"We just have to be consistent, all of us with how we work and how we approach the game. Especially in the first half. We've been talking about it always, why we have slow starts and end up behind in the second half playing catch up. There's a lot of fight to the end, we just have to start faster."