Heading into the offseason, Quinton Coples decided to make a personal choice without the suggestion or consultation of his coaches or trainers.
He decided to lose some weight.
So when the three-year vet returned to the team facility in mid-April for voluntary workouts, Coples turned a few heads sporting a slimmer 6-6 frame void of roughly 17 pounds of body fat he carried last season.
"I just showed up and they saw me and they were like, 'Oh, wow,'" Coples said. "They were surprised, but it was no big deal. They just said to make sure you don't lose too much."
Coples ended the 2013 season weighing between 285-287 pounds. Now, nearly six months later, he's between 268-270 pounds – the lightest he's been since he was a young Tarheel at North Carolina.
His initiative began with a steady diet of greens and grilled meats, including chicken and salmon, as well as a juice diet earlier in the offseason.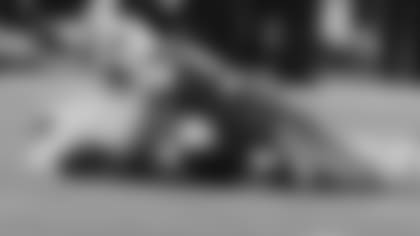 "Once you get it off, your routine changes as well," Coples said. "So desires for different types of foods and eating recklessly – it doesn't really happen anymore. You just go with the flow, you eat good food, eat clean, eat healthy. The world is about eating healthy right now, so it's easy."
Some of Coples' fat-cutting tricks have been eating smaller portions, consuming as few carbs as possible and eliminating his beloved red meat.
"A nice good steak always does you good but I had to stop because red meat sticks on you, it lays on you," Coples said.
The goal is to add a couple more pounds back in time for the season opener, making his playing weight for the 2014 season a light 270-272 pounds – ideal, he thinks, for his role as a hybrid defensive end-linebacker in the Green & White front seven.
Coples has accounted for 10 sacks through his first two seasons at a playing weight heavier than he is now. His new body should provide a quicker first step off the line and more speed off the edge in his second season playing as a hybrid in DC Dennis Thurman's scheme.
"I thought it'd be beneficial for me moving forward in this position of the defense that I've been in," Coples said. "And it helps longevity down the road. I think it's perfect for a hybrid position so I can put myself in the best situations on the field."