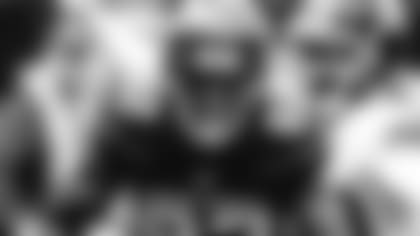 When looking in the rearview at his 2019 season — which was his first with the Jets but fifth in the league — wide receiver Jamison Crowder has 20/20 vision. He acknowledges the steps he needs to take to up his game to the next level, but he's also aware of the areas he excelled in.
"I think I was very consistent this year," said Crowder of his 2019 campaign. "Obviously as a player that's something I feel like I can continue to work on, but I feel like the consistency was there, especially when we were healthy as a team and an offensive unit. I think I was consistent, but it's something I want to continue to build on as we go into next year."
The 5'9", 177-pound receiver took his consistency to the next level, finishing the season with team highs in receptions (78), receiving yards (833) and touchdowns (6). Not only did Crowder frame himself as a dependable target for QB Sam Darnold, but he also leaned on his veteran experience to assist in developing the 22-year-old gunslinger.
"It's very important," Crowder said on how his presence has aided Darnold. "I try to help him out as much as I can with certain things that I've experienced throughout my short career. Anything that I can pass on to him from what I'm seeing on the defense and obviously anything that he sees because communication is important. So, as I get older and play here, I'm going to try to help him out as much as I can and I'm sure he'll do the same for me."
The dynamic duo of Crowder and Darnold produced the highest quality of play in the second half of the season. Five out of the fifth-year WR's six touchdowns came between Weeks 10-17, and 13 out of the second-year QB's 19 TD passes came during the same time frame. But even though both players saw more production in the latter half of the year, for Crowder, there was one specific moment when the chemistry between the two really clicked.
"I would say the Dallas game, which is the game he came back," Crowder said of the Jets' Week 6 win that saw the slot target total 6 receptions for 98 yards. "Even though he had missed a few games prior to that, I just thought that leading up, considering OTAs and minicamp, that Dallas game was the game where him and I were on the same page and kind of in a rhythm. After that game there were some ups and downs, but I think that was a game where me and Sam had that connection. I just hope that stays consistent heading into next year and we can just continue to build on that."
Under the guidance of WR coach Shawn Jefferson and offensive assistant Hines Ward, Crowder produced career-high numbers in both games started (12) and receptions (78) and was just 15 yards shy of topping his career high in receiving yards (847). Now that the 2020 offseason has officially commenced, his goals are to focus on perfecting his craft for the upcoming season.
"I just want to make sure that I'm always working on my routes and I'm just trying to go back and watch some games from this year I feel like I didn't really play as well, I want to see what things I can improve on," Crowder said. "Whether it's reading the coverage or maybe just route techniques. I think that's the main thing is route running. I'm obviously always going to work on my hands, and there were a few plays there throughout the year where I dropped some easy passes and an easy touchdown against Baltimore. I think it was just a lack of focus. I'm just trying to continue to be a great player."