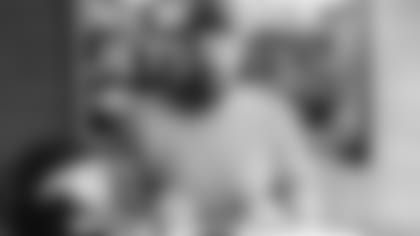 The Jets filled a need when they re-signed free-agent center Connor McGovern, who will be with the Green & White for a fourth season after spending three seasons with Denver. He said that he was drawn back to 1 Jets Drive by the organization's culture change under GM Joe Douglas and HC Robert Saleh.
"The people," McGovern said about his return to the Jets. "You know I think that I've always told Joe [Douglas] this whenever I do my exit interviews, you can always tell since my first year here to now going into Year 4, the people that they've brought in have been huge in the changing the culture here. Coach [Robert] Saleh is truly a leader of men. Saleh got here because he is a guru of X's and O's, but also because of the type of leader he is. So, the people to me always most important, and I think the Jets organization from leadership, front office, coaching staff and players has the best people in the league."
McGovern not only started all 17 games last season, but also was the only player on offense who took every snap in 2022. In his past three years with the Jets, he has played 3,055 offensive snaps, the most on the team over that span. McGovern's consistency and leadership have been a staple on the Jets offensive line.
"I'm not sure, I wish I had an answer for that," McGovern said, referring to why he has been so consistent. "I guess you'd call it luck, or how I trained or whatever it is, but that's kind of I feel like one of my biggest attributes is I've always been available. I have only missed, I think two games in my career with a knee and other than that, I've been available. I don't know what the magic potion is. I'm going to chalk it up to God's grace and some good luck and just keep making that the cornerstone of my career and staying as healthy as I possibly can."
McGovern will be returning to a Jets offense that has added WR Allen Lazard and WR Mecole Hardman Jr. through free agency this offseason. And now QB Aaron Rodgers in a trade with the Green Bay Packers. He knows that by adding players with playoff experience could be a game-changer.
"They're huge," McGovern said. "Those two guys are coming from teams that are perennial playoff and Super Bowl teams. If you look at who Joe Douglas and Saleh have added in free agency the last couple of years they are guys who have been on playoff teams and have been in Super Bowls. They're guys that know what it takes late in the season to strain through whatever you got going on, to win those last couple games, and make it to the playoffs and Super Bowl. Just by the way that they've built a team you can tell, obviously, that's the goal, but they're doing everything they can to get every single piece."
Looking ahead to the 2023 season, McGovern embraced Saleh's message at the end of last season: Finish.
"We just need to finish," said McGovern, who turns 30 on Thursday4/27. "My college coach always said that those who win in November get remembered, and in the NFL it's those who win in December and January get remembered. We started strong last year, we had the momentum early, we just need to finish it. You know, when if you lose a game or two, you can't let that compound and I think last year, we kind of got in that rhythm and it kind of compounded and we just let a couple get away. I think this team, and I know Saleh, they're doing everything they can to make the adjustments to put us in the best position to be able to finish. That's all it's going to take is being able to play through.
"The end of the football season's long and so at the end of it there, you're a little beat up, you're a little worn out, and it's whoever can strain the most and give that last little percent to win the football games. It's going to be a really good year and we've added those pieces that will help push the younger guys and lead the younger guys into being able to win those last couple games at the end of the season when it really matters."