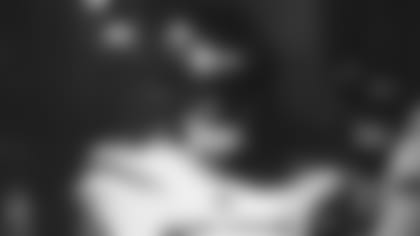 While eight games remain in the regular season for the Green & White, their work is far from done. If the Jets win Sunday in Foxborough, they would be first in the AFC East in Week 10 or later for the first time since 2010.
"I haven't had the opportunity in my career to ever be in that position to be first in the division," said C Connor McGovern, who is in his sixth NFL season. "You can't let the success get to you and let it change your routine. Coming back after a bye, you have to remember the little things you did, those little routine things you did that got your mind right. You have to lock back in, refocus and keep coming in every day with that work ethic. We haven't accomplished anything yet and there's a lot to go."
Three weeks ago when the Patriots came to MetLife Stadium, the Jets lost 22-17. They turned the ball over three times and had a costly roughing the passer penalty that nullified a pick-six that would have put the Green & White up 17-3 at the half.
"That one definitely did get away from us a little bit," McGovern said. "We know what mistakes were made and how to fix them, and they've definitely been addressed, especially after a bye week. Most teams you'd have some familiarity with them, but the Patriots tend to throw a lot of curveballs. You never know what to expect when you play the New England Patriots. You just have to make sure you're on your P's and Q's, locked in and fully focused."
McGovern, who has been constant in an ever-changing offensive line, is one of two linemen to start all nine games this season (LG Laken Tomlinson). According to Pro Football Focus, McGovern has the third-highest pass blocking grade among centers with a minimum of 350 snaps. While the lineup has shifted week to week, McGovern's confidence in the offensive line has not wavered.
"We have a room with incredible depth, incredible comradery, and I think especially the tackles and Nate (Herbig) at guard have really done well with the next-man-up mentality," he said. "I haven't felt like there's been a drop off whenever a new guy comes in. Everybody is firing on all cylinders and playing at an extremely high level. I know that whoever is in there is going to be doing a phenomenal job."
As the offensive line tries to stop a Patriots defense that ranks No. 2 in the NFL in sacks (Matt Judon leads the NFL with 11.5) and tied for 3rd in turnovers, McGovern knows the Jets have put themselves in a position to snap their playoff draught.
"It's going to take everybody, every week, bringing their best," McGovern said. "We have that mindset to bring it every day and keep bringing it to every game. Obviously, we've proven that we're a pretty good football team, and when we're at our best, we're pretty hard to beat. It's going to take showing up to work every single day from here to the end of the season. We have a nice Bye Week kind of right in the middle to be able to recharge and refocus, but we definitely haven't lost sight of what's ahead of us, and we're ready to keep going."