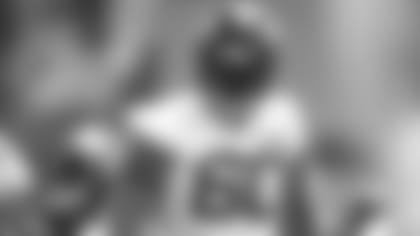 From his perch in the middle of the Jets' offensive line, center Connor McGovern has emerged as one of the most sturdy and durable players on the team.
In the past three seasons -- two with Denver and last season with the Jets -- McGovern has played in 16 games each of those seasons, taken more than 3,000 snaps and never fallen below having taken less than 98% of his teams' snaps. That includes last season. In addition, McGovern was flagged for zero penalties in 2019 (when he became the Broncos' starting center); and only two last season.
Now, as the saying goes, it's a whole new ballgame for McGovern, his returning teammates and a cadre of draft picks and free agents. They hope to solidify and energize the offensive line in a new scheme engineered by offensive coordinator Mike LaFleur and O-line coach/run game coordinator John Benton.
"There's an awesome new energy around, a great energy," McGovern said during voluntary OTAs. "It's been fun. We've actually been able to go out and have fun with the guys and bring the fun part back to football."
In addition to the holdovers on the offensive line, a list that includes second-year man Mekhi Becton, George Fant, Chuma Edoga, Greg Van Roten and Alex Lewis, the Jets drafted Alijah Vera-Tucker out of USC and signed the free agent Dan Feeney from the Chargers. After the three days in Cleveland for the draft, GM Joe Douglas signed the UFAs Tristen Hoge (BYU), Teton Saltes (New Mexico), Grant Hermanns (Purdue) and Parker Ferguson (Air Force) to foster competition.
"There are definitely some new faces," McGovern said. "They fit in very well, it's one of best rooms I've been around personality-wise. I think we will mesh together, we have time to build cohesion, friendship and trust. I'd expect this year to be pretty special, this offensive line is built for this team."
Depth and competition ... the watch words throughout the organization, preached with passion by Head Coach Robert Saleh. McGovern, 28, said that it's easy to get behind Saleh.
"He's all 'go,' very high energy," McGovern said about his new coach. "It does feel that every great coach I've had tells these parable stories to get his points across, and he [Saleh] has those, too. The energy has been awesome, the lessons he teaches have been awesome. I'm really looking forward to this year."
It goes without saying that McGovern is expected to have a working relationship with Zach Wilson, the rookie quarterback drafted No. 2 overall in the 2021 NFL Draft who could be the Jets' starter against Carolina in Week 1 in September.
"I think he's a professional, super great off the field," he said. "We're seeing him really making some plays on the field. I'm looking forward to big things from him and I'm excited to see what he can do this year."