Besides training camp and the start of another season, August always means something else for many of us at the Jets: the annual weeklong visit from Connie Carberg.
However, this year, Connie, off her flight up from her South Florida home, was different. She was still the same old massive fan of the Green & White. She still had those stories about when she was the first female NFL scout for the Jets back in the Seventies.
But this time she arrived as a published author.
"I'm blown away. I really didn't know what the reception was going to be," Connie told me this week about the reaction to her book, "X's and O's Don't Mean I Love You: The Untold Story of the NFL's First Female Scout."
"Just the comments I've been getting, not just from people I know on Facebook or Twitter, but also the messages from people I don't even know, and just reading some of the articles, they're amazingly positive."
They should be. A few years after her son Chris convinced her to start up her own website, Connie and co-author Elisabeth Meinecke began a four-year book project. The result is an informative account of her life, from growing up as the daughter of Dr. Cal Nicholas, the Jets' longtime team internist, through serving as secretary and then scout for the Jets of the late Seventies.
Connie's rich background and incredibly positive personality can certainly inspire young women who might want to break into football but don't know how.
"Being a part of the Jets, I just loved what I did," she said. "Whatever I showed, I guess they saw something in me. Pursue what you love. Don't do it for diversity's sake or because it's the thing to do. Just pursue it, and especially nowadays, things will happen. To me, everything comes with passion, and that's what the book is all about."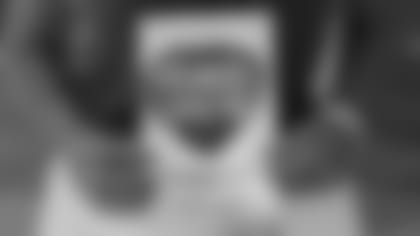 Her passion and knowledge impressed former Jets coach Charley Winner, who hired her, and general manager Al Ward, who was so impressed that he told her at the end of the 1975 NFL Draft that the Jets' 17th and last pick that year, No. 430 overall, was hers to make.
"I never expected that in a million years," she said. But unflinching, she explained her reasoning: "I'm going for a Buckeye if I possibly can. We need a wide receiver/tight end. So my pick was Mike Bartoszek." The Ohio Stater never played as a pro, but as Connie said, "I was very happy that he wasn't in the first or second round of cuts."
Winner and Ward are still going and both contributed to the book. So did, among many others, Joe Namath and Mark Gastineau. Carberg's claim to fame was her "discovery" and championing of Gastineau, who rose from the obscurity of East Central State in Oklahoma to play in the 1979 Senior Bowl (Connie extended the invitation), become the Jets' second-round pick that year, and fashion a career that ultimately landed him in the Jets' Ring of Honor.
Two great facets of this book for me: One was the comparison of the clunky way things were done in the Jets' scouting department as late as the Seventies compared to today's high-tech operation. The other was the reporting care that Meinecke brought to the early days not only of the Jets in the Sixties, when "Dr. Cal" came aboard, but also of the AFL and the NFL at that time.
"I wanted to do something that was positive, that said something good about football in this world where everything seems to be pulling football down," Carberg said. "I've had a great life, wonderful mentors, and I wanted to tell a story that maybe people hadn't heard before and give inspiration to young girls and Jets fans in general."
Mission accomplished, Connie.
"X's and O's Don't Mean I Love You" is available now in paperback and on Kindle on amazon.com. And you can get more info on book signings at ConnieScouts.com.