Here are six facts you may not have known about Chris Johnson, the three-time Pro Bowl running back whom we signed yesterday: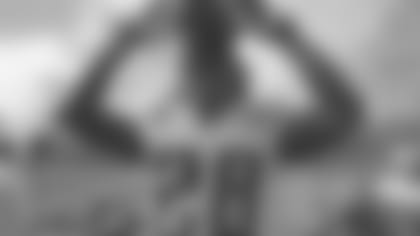 Among the list of NFL records and distinctions that he holds, Chris Johnson is the only player in NFL history with six touchdown runs of 80 yards or longer. One of those came against the Jets on Monday Night Football in 2012.
That run was significant because it showed Johnson at his most dangerous. In the mostly quiet game, he gained 10 yards on his first seven carries and 18 on his last 13 carries.
But with 9:06 left in the first half, on his eighth carry of the night, Johnson burst through a hole off of right guard and didn't stop until he had finished a career-long 94-yard TD run. The score gave the Titans their first lead in the game at  7-3 and was pivotal in helping them outlast the Green & White that night, 14-10.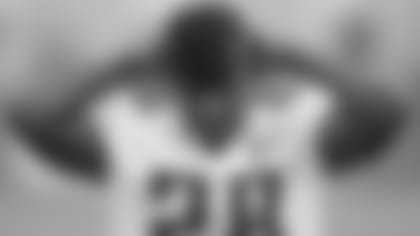 2. Sports ... Illustrated
Last year Johnson appeared in an episode of Spike TV's Ink Master as a special guest judge. "I got my first tattoo in seventh grade," he said. "After I got my 20th tattoo, I lost count." Reportedly CJ2K has a tattoo of a skull across his chest, another of his face on his right shoulder, and a tat of his 40 time on his calf.
On the show, Johnson was judging not tattoos but three competitors' creations of custom sports car grilles, cars being another of Chris' passions.
3. No Forty Faster in the New Millennium
Speaking of Johnson's 40 time, we're not sure if his calf tat is 4.24, but that would be appropriate since it was his clocking in the dash at the 2008 NFL Combine. According to StatisticBrain.com, that is still the fastest 40 time by any player in the last 15 Combines, or since the implementation of electronic timing for the 2000 workout session. (Before electronic timing, Bo Jackson once turned in a 4.12-second time.)
Also on that laser list is another recent free agency signing by our team — WR/KR Jacoby Ford was clocked at 4.28 seconds in 2010.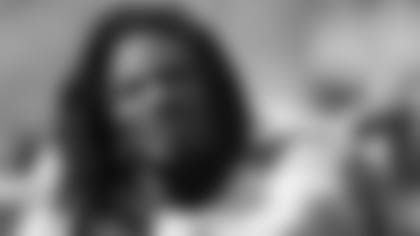 4. Back with the Golden Bite
And speaking of grillz, Chris Johnson has a set of gold teeth, famous for making at least one headline during his career. In fact, it was a Hall of Fame headline.
Johnson was reported to have missed his usual team bus as the Titans headed from their Canton, Ohio area hotel to Fawcett Stadium to play the Bills in the 2009 Hall of Fame Game. The reason: He tweeted later that he had forgotten his gold teeth and had to go back to get them. However, he did catch the team's 4:45 bus in plenty of time to suit up and start for the Titans in the HOF Game.
5. Cheetahs Sometimes Win
Johnson participated in National Geographic's "Man v. Cheetah" special. On the show, Johnson and former Bears KR Devin Hester each raced cheetahs on a 220-foot-long course (with a wall separating them, perhaps needless to say) at the Cheetah Run exhibit at Busch Gardens in Tampa, FL, in May 2013.
To even the odds, NG had the players and the cats run their their circuits with 180° turns, which the players negotiated a lot better than the cheetahs, which were following furry decoys and skidded in the sand well past the turn line.
Johnson, despite his 40 time and his personal bests of 10.38 seconds in the 100 meters and 21.28 in the 200 as an Orlando high school track star, lost his two-leg race. Hester won his four-leg race.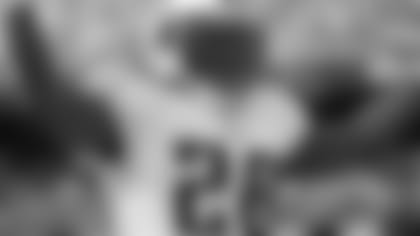 Uniform No. 28 has been identified with Johnson since he arrived as a pro out of East Carolina. It's the only number he's ever worn as a Titan. His website? chrisjohnson28.com.His Twitter handle? @ChrisJohnson28.
A small problem for CJ with the Green & White, though: Curtis Martin wore 28 from 1998-2005 and rode it into the Pro Football Hall of Fame, and the team has retired his number.
We're sure Johnson will have no problems adapting. At ECU he started out in No. 24 and switched to No. 5 for his last three seasons.