Climb Still RemainsThe ascension has not gone according to plan. It's been 28 years since Klecko retired. His eligibility as a Modern Era candidate for the Hall of Fame has expired. A man who seamlessly made the transition from playing outside to inside during his career has now been stuck on the outside for close to three decades.
"I'm shocked to be honest with you," Hannah said. "At the same time, I'm not because he never was on a real championship team. Unfortunately people only think the players who finished in championship games are worthy to be considered great players. But Joe was an unbelievable player and because he wasn't on a lot of championship teams, he's been overlooked."
A four-time Pro Bowl selection and two-time first-team All-Pro, Klecko helped the Jets earn playoff appearances in 1981, '82, '85 and '86.
"The thing that probably hurts Joe is that the Jets never made it to the Super Bowl during his years with the team," Myers said. "But they did make it to a conference championship game. He got hurt early that season, but made it back for the playoffs so he was one step away from the Super Bowl."
Klecko played 12 seasons in the NFL and he was a standout in nine of those.
"Technique, intensity and want. You're not a sixth-round pick and become a star," DeLamielleure said. "He became a star. Go down a roster, how many sixth-round picks are in the Hall of Fame? How many defensive tackles are in the Hall of Fame that didn't play in a Super Bowl? I think that's one of the things that hurts a lot of guys, that they don't have the ring. Give me a break."
More than a shooting star, the knee injuries held him back in '82 and '87. But even in those final 15 games with the Colts, Klecko helped instill a culture.
"I really appreciate the stability you brought our team last year," Colts head coach Ron Meyer told him upon his retirement. "You epitomize what we all want (all our) players to aspire to."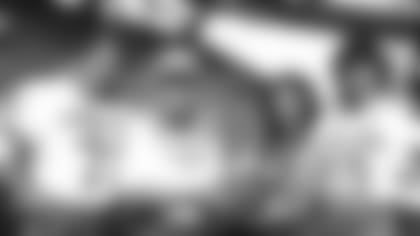 A Great PlayerJoe Klecko never quit and he had no fear. He compiled a 25-2 record as a collegiate boxer at Temple and earned a few sparring sessions with former heavyweight champion Smokin' Joe Frazier.
"I was noted for my right hand, so I went in there to set Joe up for a right hand," Klecko said of his experience at Cloverlay Gym in Philadelphia, "Like Joe Frazier never saw anybody set him up for a right hand. Joe used to be noted for his left hook and he stopped it right next to my head."
Frazier didn't hit Klecko and the latter escaped damage. Klecko's ring was on the field and that is where his championship mentality was always on display.
"Don't lose. Don't lose your individual battles and you'll win the game," he said. "It starts play by play."
Klecko was a Hall of Fame competitor and he played in an era when the game did not feature specialists. He also recorded a franchise-tying five blocks on special teams.
"My litmus test for players is are you great on every down or are you great every once in a while," Long said.
Klecko's peers are still amazed by his determination and his effort.
"I had Joe Greene and Merlin Olsen. I put Joe right in there with them. He was a great player," DeLamielleure said. "The difference between Joe and all the players you played against, he never took a play off. Ever. It was all-out. It was like he wanted to play against his older brother or something and wanted to prove a point."
Widely considered the greatest guard in NFL history, Hannah believes Klecko is one of the two best players he ever played against.
"The two guys in my mind who were the best all-around that I ever played in front of were Howie Long and Joe Klecko," he said. "They were just the best all-around defensive tackles I ever saw."
Anthony Muñoz, who is the most decorated offensive lineman in the history of the game, once said Klecko was "right there at the top of the defensive ends" he had to block while mentioning him with the likes of Fred Dean, Lee Roy Selmon and Bruce Smith.
"He had crazy strength, leverage and smarts," Muñoz said. "You see a lot of guys who have strength, but they don't have the ability to mentally counter, mentally adjust not only from play to play, series to series, but during your move."
Not His FightIn the coming weeks, the Seniors Committee members will reduce the list to 15 Senior Nominee Finalists. Then five members of the nine-person Seniors Committee, selected on a rotating basis, will meet in Canton, OH and nominate two candidates to be among the finalists for Hall of Fame election. Those two Senior Nominees must receive the same minimum 80% of the vote as the Modern Era candidates to be elected.
"I think Joe gets into the room, he gets into the Hall of Fame," Wilner said. "So, the battle is let's get him into the room."
This is the one battle that Joe Klecko cannot fight himself for this is not his fight. He did all he could do and that youngster with the farm boy strength is now 63 years old.
When is his time? Has history forgotten him?
"The Hall of Fame would be in a lot better standing with a guy like Joe in it," Muñoz said.
"I think it would be an honor for the Hall of Fame," said Hannah of a Klecko induction. "I know it would be nice for Joe, but I think not having Joe in the Hall of Fame is really kind of a slur against the Hall of Fame."