Move to the InsideTwo years after being selected to the Pro Bowl as a defensive end, Klecko got his first invite as a defensive tackle for his 1983 efforts. He started three games at RDE and then was switched to LDT for the remaining 13 games. He had six sacks and finished with 107 tackles including 68 solo stops.
"If he played defensive tackle, I believe over time… let's say he played that for 8-10 years," King said. "I think he would have played it at a high enough level that everyone who watched him play would say, 'That's a Hall of Famer.'"
Many pundits believe defensive tackle was Klecko's best position. Equally coachable and malleable, Klecko took his position changes with a grain of salt.
"It didn't bother me at all, it didn't bother me one bit," he said. "What was the ultimate goal for me? It was to win."
The Jets had identical 7-9 marks in Joe Walton's first two seasons at head coach after he took over for Walt Michaels. Klecko appeared in his third Pro Bowl following the '84 campaign, filling in for an injured Bob Baumhower. Slowed by hamstring issues, Klecko was limited to 11 starts with seven coming at LDT. He finished with 3.0 sacks and 47 tackles.
But the Jets made it back to the postseason in 1985 as Klecko quite possibly pulled off the most amazing season of his career. Starting 16 games at nose tackle in a 3-4 front, he became the first defensive player in NFL history to be selected to the Pro Bowl at three different positions.
"Believe it or not, I loved nose tackle the best," Klecko said. "The reason being is everything happens quicker and I was able to react quicker than anybody else they could put in there or anybody else they played against."
Defensive coordinator Bud Carson had Klecko line up on the center cocked at an angle, forcing opponents to provide help. Klecko not only occupied offensive linemen, but he racked up 7.5 sacks and 96 tackles and led the team with five forced fumbles.
"There are two things that in my opinion really separate Joe Klecko," King said. "To play nose tackle at a Pro Bowl level after playing defensive end at a Pro Bowl level, that's such a tremendous accomplishment aside from the fact that he was an impact player for a decade. Just the fact that he did it at those two distinct, unique positions says it all about him."
Carson said most of the players at nose absorbed punishment while teammates would reap the benefit, referring to nose tackles as "garbage collectors." But Klecko had other ideas, always the aggressor feeling at home in a phone booth.
"I'm quite familiar with his moves," said former Seahawks center Blair Bush. "Some people call it a bull rush. We call it, 'The Klecko Skate' because when he hits you, it looks like you're rolling backwards on skates."
Long, who had 84 career sacks, says he moved his game forward by watching Klecko.
"I thought the real intricacy of Joe's game and the technique and the pre-snap get-off and all of those things played more of a role when Joe went in over the guard as a defensive tackle and particularly over the nose," Long said. "And I took a lot of the nose stuff, as I did with Joe Greene."
Carson, who was the Steelers defensive coordinator from 1973-77, had Greene play the cocked nosed stance in a 4-3 look. Greene, a 10-time Pro Bowler and six-time first-team All-Pro, would consistently explode off the ball, knock people down and wreak havoc.
With the Jets, Carson asked Klecko to cover* both* gaps.
"Joe Greene did the cocked nose turned sideways," Long said. "Joe did some of that but was also dominant head up. His quickness put so much pressure on the center and something as rudimentary and as simple as the snap of the football became a challenge for teams."
Klecko had the freedom to line up on the left and move right even if the ball was coming back to the left. He insisted to Carson that he could get behind the center and back-door the play. And instead of waiting for the ball to be snapped, Klecko had his own key that he never revealed until recently.
"The quarterback is allowed to move his right foot before anything moves," Klecko said. "Well, if I'm sitting here looking at your right foot, what do you think I'm going to do? Wait for the ball to be snapped? No, I'm going to move on that foot."
`With Kyle Clifton and Lance Mehl playing behind him, Klecko occupied blockers and let his linebackers flow to the football. Clifton tallied 160 tackles and Mehl, who was selected to the Pro Bowl for the first time, pitched in with 156 stops and 5.5 sacks.
"He was so stinking quick. Luckily for me, it worked out well," Mehl said. "I played behind him when I was defensive end, and then I moved inside when he moved inside. So, I got to play behind him a lot and he just made my job a lot easier."
Mehl, a defensive play caller who credited Klecko for handling any adjustments for the defensive linemen, said Klecko had "ridiculous" strength.
"If he was on one side of the center, he had both A-gaps and he had to control both gaps. That's what was so impressive," Mehl said. "He'd just grab the guard and the center back when you were allowed to do it and he would stop them from getting out to the second level to block the linebacker. That's what made him so good. Plus, he was so damn smart."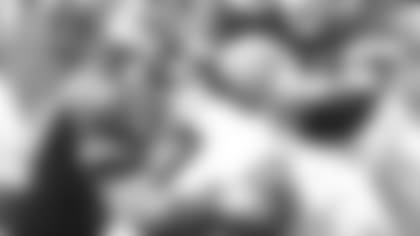 End of the RoadKlecko started 10 games at nose in 1986 and he was the key cog of a rush defense that led the NFL after 11 games. He then missed four games following arthroscopic surgery and the defense surrendered at least 138 rush yards in each contest. He came back against the Steelers in Week 15, but was injured while in pursuit of QB Mark Malone.
"You could see the Jets deflated," Wilner said of the Green & White sans Klecko. "I know that doesn't really have to do with Joe's personality or who Joe was, but the effect of him getting hurt really kind of impressed you how important he was because he wasn't there. In some ways, that's the sign of a Hall of Famer too."
In his 11th season, Klecko was limited to 11 games following reconstructive knee surgery. Jets team doctor James A. Nicholas advised he retire, but he wasn't ready and was released by the team in February 1988. The 34-year-old Klecko, who had two major knee operations and was told that his knee problems would get worse, signed a two-year deal with the Indianapolis Colts.
"It's like crossing the 405 Freeway in LA, playing nose guard in the National Football League. Joe was dragging one leg behind, essentially playing with one leg," Long said. "So, for me, that was as impressive as anything and showed what an incredible passion and love he had for the game and how disruptive he was still playing on one leg, in that spot on the nose, in a phone booth."
He would gut it out one final season, starting 14 games for a Colts squad that finished 9-7 and remained in playoff contention until the final weekend. No longer the stat stuffer, Klecko collected 32 tackles and no sacks.
"I'm not sure this should be a retirement as much as it should be an ascension to the Hall of Fame," said Colts owner Jim Irsay, who was the team's GM in 1988. "He only spent a year here but his influence has rubbed off on some of our younger players."