Heart of the Sack ExchangeAlthough he notched 10.5 sacks in 1980, Klecko finished second on the squad as DE Mark Gastineau tallied 11.5. Klecko had at least one sack in eight of the 15 contests he appeared in, amassing six in the final six games. Displaying his unique versatility, the 6'3", 265-pounder was back at defensive end.
Said Long, "Joe's leverage point was so low and as most offensive tackles that played against him would attest to, his just pure raw strength, his quickness off the ball, his understanding of leverage and just sheer power — his game was not about finesse. It was not about being slick. For Joe, it was simple. You know what I'm going to do, I know what you're going to do and stop me if you can."
Nobody came close to stopping Klecko in 1981. He earned a trip to the Pro Bowl and was named Sports Illustrated's NFL Player of the Year after leading the league and setting a club record with 20.5 sacks. Playing through a sprained foot, he also registered 107 tackles (72 solos).
"It just speaks to the diversity and the speed that he had," Hannah said. "A defensive end, you don't have to have the strength so to speak at defensive end that you have to have at tackle. It's more of a speed position because you're relying on them to get that upfield pass rush, contain that quarterback, keep him in the pocket and then get to him. It just speaks to the overall athletic ability that Joe had."
According to the NFL, Klecko is listed as only having 24.0 sacks in his career. Sacks didn't become an official statistic until 1982, so you have to dig to find Klecko's 50.5 sacks over his first five seasons.
"People forget he put up 20.5 sacks in 1981 before sacks were considered an official statistic," said Daily News NFL Columnist Gary Myers. "So you look at Joe's stats on NFL.com or Pro Football Reference and it shows 24 career sacks, but it discounts sacks from his first four or five years in the league, including his most dominant season."
The Jets led the NFL in 1981 with 66 sacks and the New York Sack Exchange was born after Klecko, Gastineau and DTs Marty Lyons and Abdul Salaam were invited to ring the ceremonial opening bell at the New York Stock Exchange.
"The Sack Exchange was phenomenal and Mark Gastineau for a while was a gigantic impact player on the game," King said. "But I think over time and at three different positions, you had to account for where Joe Klecko was every week. I think he was where offensive coordinators and offensive line coaches started their game-planning."
"He was the heart of the Sack Exchange," added Barry Wilner of the Associated Press. "I think that's the best way to put it."
The 1981 season was one of the best for any unit in NFL history. Gastineau finished with 20 sacks as the Jets' bookends combined for 40.5. The tackle pair of Marty Lyons (six sacks) and Abdul Salaam (seven sacks) pushed the pocket in the middle.
For the first time since 1969, the Jets made the postseason. After spotting the Bills a 24-0 advantage at Shea Stadium, the Jets almost pulled off an improbable comeback before falling short, 31-27, in a wild card contest befitting its name. Nobody hated losing more than Klecko.
"Winning was the only ultimate goal," he said. "I wanted to win a Super Bowl worse than anything in the world and I think that was the driving force for me to win. If you wanted to win, you're in. If you didn't want to win, I had something to say to you."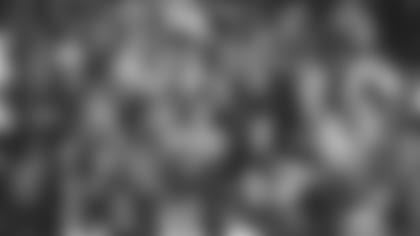 Three StrikesSometimes passion can lead to bad judgment.
In Week 2 of the 1982 season, the Jets were cruising to a victory over the Patriots at Schaefer Stadium. Klecko had two of his team's six sacks of New England QB Matt Cavanaugh, and the Pats mustered only 57 total yards. With the game out of reach, Klecko exited to the sideline only to return and sustain a ruptured patella tendon in his right knee.
"It was stupid. I actually was playing and I got taken out because the game was in hand," Klecko said. "Then New England had a score and I put myself back into the game like a nut and that's when I broke my knee."
Following that second regular-season weekend, the NFLPA went on strike and everyone headed to the sideline. The 57-day player absence reduced the schedule from 16 games to nine.
Klecko worked diligently with his rehabilitation and was reactivated for the playoffs. On one leg, the seven-year pro played a defensive snap in the Jets' 44-17 wild card win over the Bengals in Cincinnati, then most of the second half in the 17-14 divisional round triumphs over the Raiders in Los Angeles.
"Everybody said you're not going to be able to do that and you may not every play again, Joe," Klecko said. "I came back and I wasn't ready. The first game I played a little bit, and then the second game, and then of course against Miami, I played a lot. But I wasn't totally ready."
The Dolphins had the Jets' number in 1982 and ended their Super Bowl hopes with a 14-0 shutout in the AFC Championship Game. The Mud Bowl, which featured a sloppy Orange Bowl field after days of South Florida rain, took away the Jets' speed and ended a trying year for Klecko. He would never get that close to title again.