"You Block Him"Klecko didn't care who — he would fight anybody. It didn't take long for NFL opposition to find out that he was a rare breed. Hall of Famer Joe DeLamielleure, a six-time first-team All-Pro performer for the Buffalo Bills, remembers one of Buffalo's first encounters with Klecko at Shea Stadium on Dec. 11, 1977. The Bills asked center Willie Parker to reach-block Klecko while DeLamielleure, lined up at right guard, would pull.
"We ran the play one time, Joe made the tackle for a two-yard loss. We go back to it in the third quarter, can't reach him again," DeLamielleure said. "Parker is frustrated, saying he can't block the freaking guy and doesn't know why they keep calling the play."
Later in the game, Klecko scored the technical knockout with a third sack and Parker waived the white flag.
"We call it again in the fourth quarter and Joe gets another sack," DeLamielleure said. "It's fourth down and we run off the field. Willie takes his helmet off, gives it to our (OL coach) and says, 'You block him. I can't block him. We cannot block him like this.'"
Starting six games his first campaign, Klecko racked up an NFL rookie-high eight QB sacks in 1977.
"He was just as strong as everything," said John Hannah, a Hall of Fame guard who played 13 seasons for the Patriots and was a 10-time All-Pro. "If he ever got under you, he was going to plow you right back into the quarterback. You just couldn't move him out of the hole. You had to turn him, but you couldn't move him. The other thing was his quickness. He was just off the ball quick. He seemed to be able to lean on when the center was going to snap the ball. The combination of speed and quickness and having that strength to go along with it was just something you really had to contend with."
All-Day SuckerBy the end of his sophomore pro campaign, Klecko was already being called one of the NFL's premier pass rushers. Despite facing consistent double-team attention from his RDE spot in a 3-4 front, Klecko led the Jets for a second straight year with eight QB sacks.
"Klecko was a short guy who was powerful and played every play like it was his last," DeLamielleure said. "Those are the tough guys to play against because most guys will take plays off or let the score dictate how hard they're going to pay. It didn't matter what the score was. If they were up by 30 or down by 30 — you got the same guy every play."
The Jets took a step forward in 1978, improving their win total by five games and finishing .500. The young Klecko was critical in the improvement, taking a no-nonsense approach and being a stickler for details.
"He was what I called an all-day sucker. In other words, there are a lot of guys who are great players but they would take a break every now and then," Hannah said. "They'd rest and you could surprise them so to speak. But Joe, the only way I think he'd ever quit is you got a gun and killed him. He was there every play, all day long."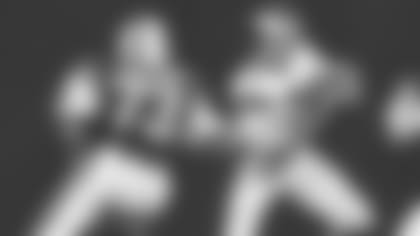 The Jets moved back to a 4-3 front in 1979 and shifted Klecko to defensive tackle. Named an alternate to the Pro Bowl, Klecko again paced New York's AFC representative with seven sacks.
"Dan Sekanovich, our first defensive line coach, was a very big proponent of the pass rush," Klecko said. "I learned a lot from Dan. He taught me how to play with leverage in a passing situation. I'd get a guy off balance and I'd just pick him up and throw him away."
He led Jets defensive linemen with 110 tackles (70 solos) and the Jets were third in the NFL against the run. One of Klecko's greatest proponents throughout the years has been Paul Zimmerman, a longtime contributor at Sports Illustrated who King says believed in the "ethos" of the interior linemen on both sides of the ball.
"I think he viewed Klecko as an immovable object," said King of his longtime friend Zimmerman, whose multiple strokes have left him unable to write and only speak a few words. "Paul had such great respect for great run players on both sides of the ball…and that's why I think he really loved Klecko."