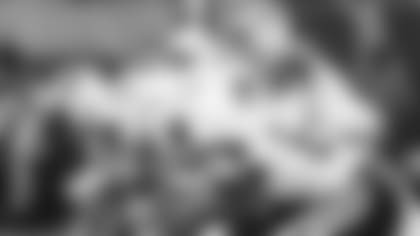 When asked about the Jets' loss of composure Thursday night, rookie quarterback Sam Darnold pointed the blame at himself. Calling the offense's performance "stagnant" in a 21-17 defeat to the Browns, the rookie said he has to play better.
"I appreciate him being honest and truthful, but I think the whole team has to play better around him as well," said former Jets QB Chad Pennington. "But just looking at Sam's performance, there's no doubt he's working through some things as a young quarterback and trying to understand timing, seeing the importance of accuracy on every play and also trying to avoid those disaster plays as well whether it be against Miami or Cleveland. So there are a lot of different things — it's not just one thing with his game or one thing with the Jets game plan. There are a lot of different things that have to be cleaned up, so they can play better. winning football."
After Darnold completed 15 of 31 passes for 169 yards against a tough Browns defense, he said he has to be more decisive in the pocket and move quicker in his progressions.
"He's on it when he's talking about decisiveness and precision. He has to trust his eyes a little bit better," Pennington said. "I think he's seeing it and then he's just having a slight hesitation whether or not he's seeing the right thing, trying to justify that in his mind before he makes that throw. The difference in the NFL and college is if you hesitate, then that throw becomes either a pass break-up, an interception or an incompletion. Compared to in college, you can get away with a slight hesitation and can still get a completion because the window stays open longer. There is definitely some hesitation while he's reading and going through his progressions."
During the Green & White's 1-2 start, Darnold has been intercepted five times. With the Jets down four points and 1:28 remaining in regulation Thursday, he had wideout Jermaine Kearse open in the middle of the field but hesitated while pass rushers closed. He then forced it back to Kearse and linebacker Joe Schobert essentially ended the ball game with the takeaway.
"The first interception was another instance of a young quarterback understanding, 'I had the receiver open and my vision got messed up because of the pass rush. I had to move around and the timing of the route wasn't like I had planned. I have to move on instead of staying with that.'
"You can't hope that is still going to be open because it won't be and it definitely wasn't," added Pennington. "He saw it initially and Kearse was open over the middle, but once he had to make an adjustment and the pass rush blocked his vision and he had to move, he can't go there again. He has to find a way to escape, throw it away or find his check down."
The Jets didn't have much of a vertical passing attack against Cleveland as Darnold was held to just 5.5 yards an attempt and some of their most explosive plays came on a trio of wide receiver screens to Quincy Enunwa. Pennington believes there will be success down the field eventually, but there were a number of reasons for what transpired in Week 3.
"In the second half, Cleveland controlled the line of scrimmage on both sides of the ball so that effects the down the field passing game," he said. "Secondly, wideouts have to get open against man coverage and have to beat man coverage. And third, the quarterback has to be able to anticipate, make accurate throws and make tough throws down the field. It's a combination of things and I do recognize there were not chunk plays that were made to really give the running game breathing room per se. So that has to be an emphasis, but I don't want to overemphasize that. That will come."