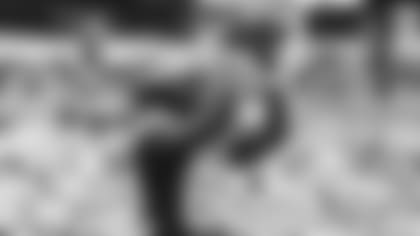 When it comes to building a roster, former Jets QB Chad Pennington sees a common thread in what general manager Joe Douglas is searching for.
"I think when you look at the different acquisitions across the board for the Jets, all of these players have kind of a workmanlike mentality," Pennington said. "I think that's been the approach by the general manager is to bring guys in who are going to work and play. Forget about the splash effect and forget about the fan favorites — let's bring in football players."
In his quest to build the best culture in professional sports, Douglas has addressed several positions this spring but none more significantly than the offensive line. He re-signed G Alex Lewis, reached agreements with T George Fant and OL Greg Van Roten and James Andrews and increased the talent at the center position with the signing of former Broncos' pivot Connor McGovern.
"I was certainly blessed to play with two amazing centers in Kevin Mawae and Nick Mangold. I will tell you the center is normally an extension of the quarterback when you're talking about making protection calls and making sure the run game is solidified with the different calls across the line of scrimmage, communicating checks and audibles from the quarterback," Pennington said. "The center is not just responsible for himself —D he is responsible for other players. The only other position on offense who is responsible for multiple players would be the quarterback. That relationship is No. 1 and then the stability in that position is really key as well."
In addition to fortifying the offensive line in front of Sam Darnold, Douglas replaced playmaking receiver Robby Anderson with another explosive target in former first-round pick Breshad Perriman.
"He has the talent otherwise he would not have been a first-round draft pick. He really started to find his ways with Byron (Leftwich) and the Buccaneers last year, was able to step in and have some great success there with the injuries that they faced with their wide receiver core," Pennington said of Perriman, who totaled 25 catches, 506 receiving yards and 5 TDs over last season's final five contests. "But also when their wide receiver core was intact with Mike Evans and Chris Godwin, he had some 1-on-1 matchups that he was able to win as well."
With Perriman penciled in to start on the outside and veteran Jamison Crowder entrenched in the slot, the Jets still have a vacancy outside the numbers. With the No. 11 overall selection in the Draft, Douglas could have every receiver on the board when he goes on the clock.
"Right now, it looks like it's going to be a receiving core that's asked to do things by committee. It doesn't look right now that you have that standout per se, that true No. 1, but that doesn't necessarily have to be the case just as long as you have guys who understand their roles and understand what they're being asked to do," Pennington said. "I could certainly see the Jets going to the draft to add to that as well, but as far as Perriman and his signing, I think it was a solid signing no doubt."
For months, draft pundits have deliberated whether tackle or wide receiver will be a better option for the Green & White in the first round. The cerebral Pennington says its difficult to debate the direction without knowing how the dominoes will fall.
"Obviously protecting the quarterback is always No. 1 of utmost importance because regardless of who you have in the skill room, if your quarterback is laying on his back, it really doesn't matter," he said. "With the acquisitions the Jets have been able to make through free agency, I think they're able to feel more and more comfortable with who they have in the offensive line room.