Where do we begin to tell the story about Carmine and Anne Caruso?
For starters, Carmine is one dedicated Jets fan. "Our entire house is green and white," said Anne, Carmine's devoted wife, of their Bayville, NJ, home. "It's covered in Jets memorabilia everywhere. Sunday is a sacred day in our house during the football season."
Anne wanted to do something special for Carmine's 50th birthday, so she rented The Coaches Club inside MetLife Stadium for a surprise party on Friday, July 29. The invitation cards in Jets green with fireworks over the stadium read "Celebrating 50 on the 50."
The night began with what Carmine was told was the point of the trip to East Rutherford, a private tour of the Jets' home stadium. The tour ended up at The Coaches Club, where not only friends and family were waiting for him but also in attendance were Jets greats Marty Lyons, Mark Gastineau, Wesley Walker, Ray Lucas, Greg Buttle and Tony Richardson.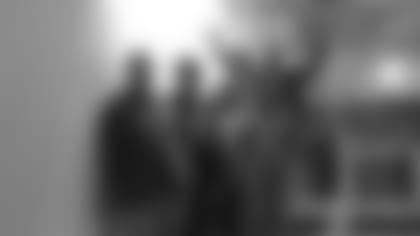 All that was enough for a great story, but the evening was extra special because of Carmine's physical condition. He fell ill in 2011 with brain lesions that kept him hospitalized for all of 2012. He is unable to walk and has trouble swallowing, eating and talking, yet he hears and understands everything going on around him.
"When his illness took a turn for the worse, there was a chance he was never coming home," Anne said. "But with the help of some very good doctors, therapists and nurses, he's gotten to where you see him today. And when I knew last March that he was going to make it to 50, I couldn't think of a better place to hold his party. There wasn't a choice, there wasn't another place to do it."
Yet one more angle to this incredible story of Jets legends and fandom and love is that not only was it Carmine's birthday but on July 6 he and Anne celebrated their 20th wedding anniversary. And as a part of this evening's activities, the Carusos renewed their wedding vows at a ceremony during the party, with Lucas serving as best man — Ray orchestrated getting Carmine on the field at training camp in 2014 — and the other Jets as groomsmen.
"We didn't know what to expect," said Lyons, the Jets' Ring of Honor member and radio analyst. "We knew Carmine was sick and we knew they were going to renew their vows. And when you turned the corner, you could just feel the love in the room."
"To see how loving Ann is, it's motivation to me to be a better husband," said Lucas, the former QB and current SNY analyst. "This is not a story about the Jets, about us being here. It's a story about companionship and a love that is so strong that I don't think I've ever seen anything like it before."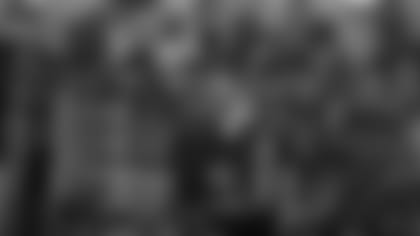 Once the ceremony ended, the legends signed autographs and took photos with the guests. And while Carmine's all-time favorite Jets player, Joe Namath, couldn't attend, Joe added one more surprise by sending Carmine a short handwritten birthday note.
Richardson offered a touching wish for the Carusos: "For Carmine, you're a true hero, a true warrior. Keep letting that light shine. Anne, you're a saint. You guys make a beautiful couple. Thanks so much for allowing us to be a part of your birthday."
"Carmine's heart beats for the Jets," Anne said during a break in the storybook evening. "I could not have seen this going any better than it has so far, and I hope he enjoys every minute of the rest of this night."