Being selected in the first round of the NFL Draft often comes with pressure to perform right away, but safety Calvin Pryor, the No. 18 overall pick of this year's draft, is trying to learn everything he can about the Jets defense to produce as quickly as possible for the New York Jets.
During today's first practice of training camp, Pryor regularly asked veteran safeties Dawan Landry and Antonio Allen and defensive backs coach Tim McDonald questions about the system or his position.
"Those guys have been here. They have a lot of experience," Pryor said. "I just try to pick their brain and try to pick up the system as fast as I can get ready to play."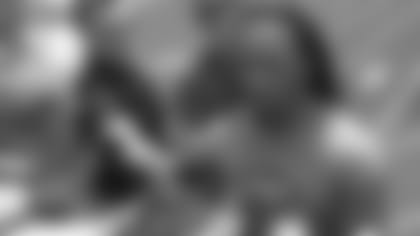 Pryor received a good amount of reps with the first-team defense in this first practice, which he said felt great because of his opportunity to learn the plays.
His learning, however, did not stop once he came off the field. He watched veterans such as Landry and Allen from the sidelines to visualize how he should play when he's on the field.
"I can learn from those guys and jump into the rotation," he said of Landry and Allen. "At the same time, I'm getting mental reps on sideline."
Head coach Rex Ryan has noticed that Landry has become a mentor to Pryor as he begins his journey in the NFL. Ryan also added that the team expects great things from its top pick this season.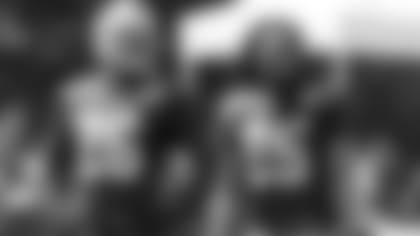 "The first thing that jumps out at you when you meet the guy is he's all football, he's all in," Ryan said. "You want those guys that love the game. Certainly he plays that way, and in meetings he's passionate about it, very attentive. Then when we get the pads on, we're going to hear him play. He's a special guy that way. Landry's been a mentor to all of them but he's certainly taken him under his wing as well."
In addition to Landry, Pryor said Wednesday that he looks to DT Sheldon Richardson, last season's NFL Defensive Rookie of the Year, for advice.
"Sheldon has been in my ear since day one," Pryor said. "I think he's the only guy that calls me rookie, but I think it's because he got so much of it last year that he's trying to pass it along the line. But Sheldon is my big brother and I look up to him and all the things he's accomplished so far here in the Jets organization and I'm just trying to follow into his footsteps."
"I talked to him a lot just to give him words of advice," Richardson said. "I told him to learn the playbook first [during OTAs and minicamp] because his wisdom tooth was out and he was trying to talk a little noise and I said, 'You can't talk right now because you're not practicing,' and he kept quiet a little bit. But I've got all faith in him right now and cant wait to see what he does when the pads break out."
Pryor, who was known for his big hits at Louisville, garnering the nickname "Louisville Slugger," will have to wait a few more days before he can come into his own as the hard hitter he believes he can be.
"I'm not here to hurt my teammates, so I don't look forward to try to hurt anyone at camp," he said. "But when the preseason and the real season rolls around, I look forward to being that enforcer."
---