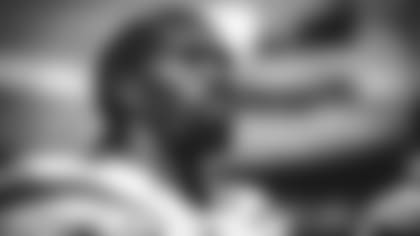 After all the attention heaped upon the Jets' cache of seven talented players in the 2022 NFL Draft, on Wednesday the cameras and microphones homed in on a few of the team's veterans in a virtual meeting with the news media -- live from One Jets Drive.
There were the two C.J.s (Uzomah and Mosley) and Carl Lawson. Mosley, one of the Jets' defensive captains, was saved for last and talked about his growing level of excitement as the gravity of the team's signings in free agency, infusion of promising rookies and return of those "hungry veterans" has begun to crystalize.
"I'm very excited with the moves, we're going in the right direction getting players that can come here and can make plays right away, who are willing to put in work to turn around the organization," said Mosley, who will turn 30 in late June. "These guys are here because they really want to change the narrative."
For Mosley, looking back at last season was for him about altering his personal narrative. After signing in free agency with the Jets in 2019, he played in only two games before sustaining a season-ending injury. In 2020 he opted-out in the face of the coronavirus pandemic. In 2021, there were few who would have predicted that Mosley would play in 16 games, lead the team with 168 tackles (103 solo), and add 2 sacks, 2 TFL and 3 QB hits. He was an absolute demon from sideline to sideline, the clear leader of the defense.
After two years away from the game, what motivation is there to come back?
"At the end of day, you want to win, that's what this is about, that's why I'm here, that's why people chose to leave their teams to come to the New York Jets," Mosley said. "To come here and win. What better place to do it? We have great fans, great tradition, unfortunately we've been on the losing side for multiple years.
"This year, I want to stay healthy, be a good teammate and be a mentor to guys who have come in, the rookies and second-year players. We want to be the team that can get off the field in the two-minute drill, be that team that can hold a one-TD lead and close teams out. That's the level we're trying to get at. Everyone is really excited. We're really all looking forward to putting something together and putting the New York Jets back on the map. It will be great."
Mosley is the Alpha dog in the linebackers group, paired with Quincy Williams -- a savvy pickup by GM Joe Douglas who was second on the team with 110 total tackles.
In 2020 the Jets drafted two college safeties -- Jamien Sherwood and Hamsah Nasirildeen -- and converted them into linebackers. Sherwood made strides before sustaining an Achilles tendon injury and Nasirildeen remains a work in progress at the position. At present, the only other linebackers on the roster are Del'Shawn Phillips and D.Q. Thomas, who was signed as an undrafted free agent.
With a reinforced defensive line, headlined by the return of Lawson from a season-ending injury, and a beefed-up defensive backfield, Mosley sees a Jets defense that has good personnel and enhanced competition.
"I think you need personnel to have competition in the room, and on defense it helps build each other up, it sharpens the iron," Mosley said. "I think about the scheme last year and this year we're not starting from the beginning like last season. We're knowing the defense, not teaching. Now we're really talking about how we can get better on defense, what can improve."
And he believes that Lawson will have a huge impact.
"He's going to be great, especially with all the additions," Mosley said, referring to draft picks Jermaine Johnson and Micheal Clemons; the free agents Solomon Thomas and Jacob Martin; and returning veterans Vinny Curry, John Franklin-Myers, Quinnen Williams, Sheldon Rankins, Bryce Huff and others. "The things we saw him [Lawson] do before he was injured gives us a lot to look forward to. He's been itching to get back on the field. He wants to be out there working, doing the right things. We're not putting any pressure on him. We know the type of work ethic and leadership he has. He will be ready to go."
On the other side of the line of scrimmage, Mosley agreed with head coach Robert Saleh after Saleh said that second-year QB Zach Wilson looks a bit "beefier."
"Yeah, he looks like he put on some weight, in the weight room," Mosley said. "There's a big difference between Year 1 and Year 2. Your body starts to change, and as you get older you figure out the do's and don'ts. You understand what you can do to get better. I feel he's ready to go, we don't really have to worry about it. He's one of those guys who spend hours in the film room trying to get better on one little thing.
"My confidence level is high. We always see him putting in the work. We always knew he's a smart guy, mobile. But when you're the quarterback you're always under the microscope. All he can do now is get better each day, time to put on a show. We'll all be ready for it."