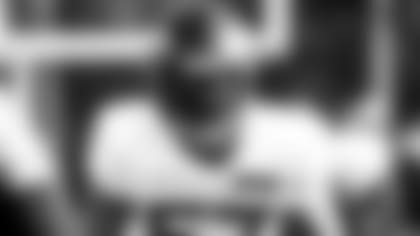 As Jets training camp moved into its fourth day and second padded practice today, there were more questions for C.J. Mosley and the defense about what it's like to play for colorful coordinator Gregg Williams. But now some talk is shifting to who's winning the daily battles between Williams' D and the offense of Adam Gase and OC Dowell Loggains.
"They got the best of us yesterday," Mosley told reporters after the Sunday session at the Atlantic Health Training Center. "I thought we did a good job of stopping 'em in the red zone today. Mainly stopping the run — that was our biggest takeaway from yesterday."
"I'll put the head coach hat on for a second and say that's a good thing," Gase said. "It's good that the other side of the ball responds and we'll see what happens the next day."
But then Gase popped on his Alabama cap — much like Mosley sports his crimson "A" headband or gloves every practice — in talking up the job his middle linebacker has been doing.
"We've got a quarterback on the defense," the head coach observed. "In Gregg's system, that guy has flexibility and they give him the tools that you need. ... The Mike linebacker has to be mentally very sharp and be an experienced guy that has been in systems like that to where he can make some adjustments in game and on certain plays.
"I've never been around anybody that's been able to really be that type of guy. I've been around some good players. But he's the best one I've ever been around."
Mosley turns the praise back on his teammates, all of whom are learning about each other as they soak up a little more of the Williams scheme each day.
"I think it's the mental aspect, especially on the defensive side of the ball. Different guys have different ways," he said. "I'm a quiet leader, I do more things on the field by example and all that. It takes all of our, I guess, egos to make this defense go. We've got Jamal [Adams] in the back that's going to be the talker, we've got Leonard [Williams] up front. As long we're all on the same page, it really doesn't matter who talks and who doesn't talk."
All of Mosley's relationships will make this D go, but a particularly key connection is with his next-door neighbor, fellow inside 'backer Avery Williamson.
"Really, that's an important piece of it that kind of gets overlooked, that relationship," Gase said.
"Every day," Mosley said, "we're learning something new as far as each other as far as the way we play, as far as the playbook and our defensive package, because there are going to be different things they put in each week. So we've just got to make sure we're doing our job first. Then once we start learning what we have to do, we can start playing off of each other and things like that."
"C.J.'s a chill dude. It's been good," Williamson said of his new inside alliance. "We're trying to figure out how we work as a team and making sure we're the best duo on the field."
And that attitude will continue to spread from duo to unit as the summer moves forward.
"We want to come on the field every day and have a toughness mindset, have the most physical and mental toughness, be the best conditioned defense," Mosley said. "That's how we try to practice."