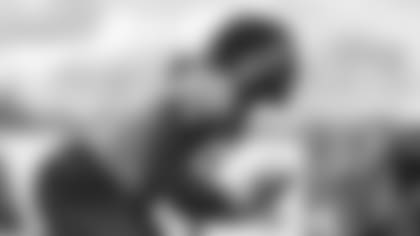 This time on the NFL calendar can be a time for some smiles and lightheartedness. C.J. Mosley is a serious-minded, battle-tested pro linebacker, but even he admitted to being a little stunned and amused by some of the offseason developments surrounding his Jets.
Such as the arrival less than a month ago of Aaron Rodgers.
"When we go out and do our little stretch line, he's right next to me," Mosley said, the ninth-year player sounding like a rookie. "We'll be having a conversation sometimes, and it'll be, he's really right here, he's talking to me."
Then there's the Jets' recently released schedule for 2023, the one that features a franchise-record six primetime games one year after the '22 schedule dished up a franchise-record 14 kickoffs at 1 p.m. ET.
"If anything, we're just looking forward to it," Mosley said of the sked ahead. "And for sure we're going to have to change our sleeping schedules. A lot of us aren't used to waking up a little later and getting a late breakfast in. You get to sleep in on some of these games."
But Mosley never sleeps on the seriousness of what he, his defense and his team are trying to do. The new schedule is one of the NFL's most difficult, based on combined 2022 schedule strength, with their first six games before their Week 7 bye presenting four playoff teams and a .653 schedule strength to overcome.
"For sure, there are going to be real tests for us during the season," he said. "Like we always say, there's no test without testimony. As you can see, the first game, Monday night, we open up against our division rival [Buffalo] so the bar is set high and it's going to be a chance for us to come out there the first game and put something on television. So we're trying really to just focus on what we can control right now and obviously the phases we have to go through in the offseason."
The same holds true about working alongside and on the other side of the ball against the new No. 8.
"It's an honor and it's exciting. It sounds good, it looks pretty, but we've still got to put that work in," Mosley said. "Everybody highly respects him, he brings something to the table that a lot of us haven't seen and played with and had as a teammate. Everybody's excited to be with him, coach with him, learn from him and start building these memories."
Mosley has been one of the Jets, for several years, talking about the goals and dreams for this team that began implementing head coach Robert Saleh's program and culture in 2021. Last year, he sounded prescient as the Jets opened 7-4, then not so much as they lost their last six to miss the playoffs.
But as blithe as he may be at this time of year, Mosley knows all that must be done, that would have to be done had the Rodgers trade never happened and that still has to be done now that the veteran QB is sitting and stretching and throwing among the Jets during their offseason program.
"There are going to be some real hard battles that we're going to have to endure and conquer, and some of them we're going to get defeated in," he said. "But how quickly can we bounce back, how quickly can we correct our mistakes? If we made a mistake in Week 2, are we still going to make the same mistake in Week 8 or are we going to correct it on the field and get it done as quickly as possible?
"The teams that last are the teams that can correct their mistakes, play penalty-free football, get turnovers — all the things we've been trying to put together. We've got all the right pieces, but when that time comes, we're going to have to jell and really understand each other, and that's going to take us through this long season that we have to have."
That's the season that Mosley, Rodgers and the Jets have to have so they can get to where they want to go.