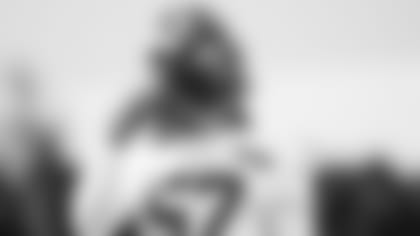 When Jets defensive coordinator Gregg Williams met with reporters in June, he stressed that the reason he continues to get hired is culture and added that "culture beats strategy any day of the week." Williams' defensive quarterback — Mike linebacker C.J. Mosley — said Williams made his expectations for his unit clear at the onset of the team's offseason program.
"Our first three days when the veterans got here for conditioning and all of that, all he talked about was culture," Mosley said. "We didn't talk about any plays or anything like that. It kind of set the standard about how he wanted the defense to work, how he wanted us to work and how he wanted us to be on the field."
Throughout OTAs and the Jets' mandatory minicamp, Mosley and his teammates got a chance to see the different sides of Williams. The veteran coach frequently changes up his communication approaches in order to get the most out of his players.
"Tenacity. That's one of the first things you can think of, the way he carries himself in the classroom speaks volumes to the way he wants his guys to play on the field," said Mosley, who just completed his first spring with the Green & White. "You'll hear him talking like this and the next moment he'll bust out screaming. I think it's just a culture change."
The culture is fast-paced and it's intense. The defense played with speed and that included sprints to every loose ball upon the completion of each play. Whenever the ball was on the ground, Williams prerequisite was that his guys better be there. Last season in Cleveland, Williams led a Browns defense that finished second in takeaways with 31.
"He told us at the beginning there's only two paces — either walk-thru or you're going fast. And it's faster than the offense, so that's been the only two paces we go by," Mosley said. "He stresses all the time that we're all human. We all start fast at the beginning of practice, but at the end you get a little tired. So he's always saying, 'Run to the ball, run to the ball, pick up any loose balls and incomplete passes.' So any little thing to get to that second gear."
Williams, who has praised Mosley for his professionalism and will give the former Ravens 'backer flexibility with checks and audibles, also is equipped with quick-witted humor. Mosley, who went to the postseason twice in Baltimore and hopes to lead the Jets back to the playoffs for the first time since 2010, says the club's defensive mastermind has a knack for striking the right chord.
"He throws his jokes in here and there and he keeps a good balance," said the Jets' new inside 'backer of Williams. "But at the end of the day, it's all business and we want to win. We can laugh later."