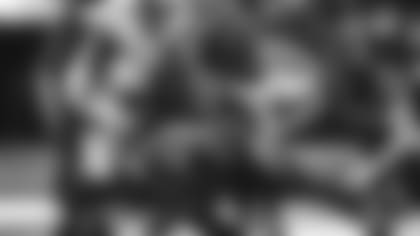 As Robert Saleh might say if you suggested the Jets defense had its own struggles against New Orleans on Sunday, "I won't hide from that."
But Saleh and his players also weren't going to throw themselves on the mercy of the court of public opinion, either. The Green & White defensive effort in the 30-9 loss to the Saints wasn't as bad as it had may have seemed at first glance and as tough as it had been in recent weeks.
Take the visitors' 203 rushing yards. Sounds bad, and for sure, RB Alvin Kamara climbed off his injury cart of the previous four weeks to rush for 120 yards on 27 carries. But as LB C.J. Mosley said:
"I felt like for the most part, we had a pretty solid game. We knew what they were running based on their personnel. They showed us a few different runs. I think, on the sideline, we made good adjustments. Obviously, in the second half, and on the last play at the end, they did a good job of scheming us on our defense. We didn't have our extra guy in the box and they were able to get that big explosive run. So obviously at the end of the game, you don't want that."
Saleh was of a similar mind on that final Hill scamper.
"Aside from that last run, I think they were averaging 3.7 or 3.8 yards a carry," he said. "I felt like the run game was fine. They just kept going to it. They were at 43 carries for 160 yards. If you need 43 carries, I feel like you're doing something right defensively. Credit to them for being patient. The last run of 44 yards makes the stat look a lot worse. Up that point, I felt like the efficiency of our run defense was pretty good."
Saleh had his numbers right. You can't ignore New Orleans' final play of the game, QB Taysom Hill's 44-yard TD jaunt on a well-designed play through an empty Jets secondary with the game already decided. But if we set it aside, up to that point the Saints were averaging 3.7 yards/carry.
Also including that play, they averaged 5.1 yards/play on offense. But again nudging the 44-yard scamper to the side for a quick second, the average would be 4.5 yards/play, which would've been the Jets' second-best defensive showing of the season, behind only the 3.7 at Houston two weeks earlier.
Of course, woulda, coulda shoulda.
While the Green & White defensive effort could have been worse, it could have been better. The unit got no takeaways again, their sixth turnover-free game of the season. There was only one pass defense, and that was by LB Quincy Williams.
But Mosley racked up a game-leading 17 stops — his most in a game in his sterling seven-year NFL career and the most by a Jets LB since David Harris' 18-tackle game vs. Buffalo in 2009.
S Elijah Riley, the Army product no doubt inspired from attending Saturday's Army-Navy game at MetLife, made 10 tackles, the most of his shorter and more checkered two-year career. DL Kyle Phillips got his first sack in two years. The pass defense yielded 141 net yards, the Jets' third-best figure of the last three seasons.
"Just like every week, the things that we were good at, we try to get better," Mosley said. "And the new things that we see and the things that we didn't do well, we've got to look at it and try to correct it for next week."
"We've got to continue to play consistent football through four quarters," DL Sheldon Rankins said. "We can't play good for a quarter and a half, and then give up things going into halftime, and then come out slow or anything like that. We've got to be able to continue to play consistent four quarters of football, because that's what the good teams do."
See Best Images from the Game at MetLife Stadium