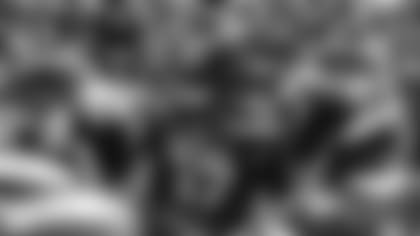 Two of the Jets' veteran defensive players -- LB C.J. Mosley and DE Carl Lawson -- were pumped and primed for action in the team's first preseason game, last Friday night in Philadelphia against the Eagles.
Head coach Robert Saleh, however, had a different idea. Plans he kept a state secret until minutes before the Green & White were about to head out into the stadium at Lincoln Financial Field.
"He [Saleh] whispered in my ear right before we were about to head to the tunnel," Mosley told reporters after practice on Monday at the Atlantic Health Jets Training Center. "He could have told us earlier. It's all right, it was fun behind enemy lines.
"I was pumped about playing on Friday. We played them last year and I was looking forward to one more quarter against those guys. But the thing is you want to be ready for the first game and all 17 games. It was a good effort. The defense played well and got some big plays, the offense made some plays. For the first game, there were a lot of lessons learned."
Lawson, 27, as yet, has not discussed the issue outside the confines of 1 Jets Drive. But for an intense defensive end who missed all of last season after rupturing an Achilles tendon during a joint practice with the Packers in Green Bay, the Coach's decision was probably a bit difficult to take.
"That was me," Saleh confessed on Sunday. "And he [Lawson] was pissed. He and C.J.. The intent was to play them both and I woke up that morning and just said 'You know, what I'm going to do is let them go through the mental aspect of it to get their bodies right.'
"So, they were mentally preparing themselves to play and then we were in the locker room before kickoff and I told them to leave their helmets in the locker room and that was for me, too, for Carl, so it's not overload and for C.J., so they're not getting such an overload of emotions, but they cleared the emotional hurdle, especially for Carl more so than C.J., but just clear the emotional hurdle, next game he'll play for sure, for sure, for sure, for sure."
For sure, that next game comes next Monday night against visiting Atlanta, after two joint practices with the Falcons.
"It will be good to get a look at a different team, a different offense," Mosley said. "Get the feel against another quarterback, a different offensive line, everything. They're really more like two scrimmages [the Jets will also have a joint practice against the Giants before the teams play their preseason finale on Sunday afternoon, Aug. 28] where we're having that competitive spirit, see another [team's] color come on the field.
"We just want to make sure we do everything the right way. We both want to compete."
Mosley is well aware that Lawson, who was signed in free agency from Cincinnati, is champing at the bit for game action after more than a year away from chasing opposing quarterbacks.
"He has that tenacity, he doesn't have a stop button," Mosley, 30, said of Lawson. "After practice, you can see him working on something. He's on the edge of the line of scrimmage and has a high motor and won't be stopped. He's a quiet leader and when he talks everybody listens. Even though he came off a tough injury, it doesn't look like he's lost a beat."
In Mosley's view, the same could be said of his (older) former teammate on the Ravens, quarterback Joe Flacco, who will be the Jets starter for the foreseeable future while Zach Wilson's knee injury is sorted out. Mosley and Flacco were together in Baltimore from 2014-18.
"He looks exactly the same, the same good arm, a nice release, tall in the pocket and still running around, which you don't see from plus 35-plus-year-old guys," Mosley said of the 37-year-old QB. "It's a good luxury to have a guy who's proven himself in the league, was a Super Bowl MVP and has won multiple games and playoff games. He has all the experience he needs to help our offense and the entire team."
Mosley is bullish on the Jets' "energetic" defense, which got an infusion of raw energy with the addition of LB Kwon Alexander. And Mosley continues to be impressed by the team's top draft pick, a cornerback he calls "Ahmad," even though the nickname "Sauce" has caught on bigly.
"It's Ahmad until the season starts and he makes a play," Mosley said of Gardner, a Cincinnati product who was the No. 4 overall selection in April's NFL Draft. "Until then he's Ahmad. On the field, he's working all the time, asking questions ... He's confident as well as being a smart player and I respect that. He listens and tries to do the right things."
See the Green & White on the practice field in full pads during week four at training camp.