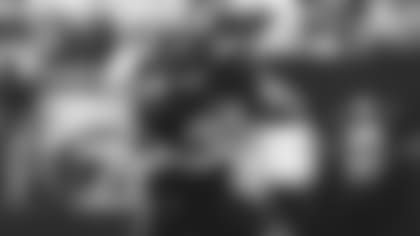 Michael Carter never doubted himself, but the Jets' fourth-round rookie running back reflected on some of the early brick walls he ran into on his way to leading the Green & White in rushing and youthful leadership.
Wall No. 1 arrived in the form of a veteran linebacker in training camp.
"Going one-on-one with Jarrad Davis in pass pro," Carter told newyorkjets.com's Eric Allen during a season-ending interview about his welcome-to-the-league moment. "He just came right through the A-gap screaming and I had to pick him up. That was my first pass pro in the NFL at all, practice or game. It kind of gave me some confidence because nobody hits harder than Jarrad."
Carter survived the preseason, only to get another welcoming party in the form of the Panthers defense on opening day.
"We played Carolina and I'm not going to lie. I was like, man, is it going to be like this every week? Carolina, they were ready to play," he said. "I think it was after we played New England the first time, I was kind of like, OK, I can do something with this."
Carter wound up being his own irresistible force against the immovable objects he faced in the early going. He stepped up to starting tailback after that Patriots home opener and, except for injury, didn't give it up. He finished by leading the Jets with 639 rushing yards (at 4.3 yards/carry) and 964 scrimmage yards (thanks to a healthy 9.0 yards/catch). He also topped the team in both rushing (29) and total first downs (46).
He notched his first game of 100 scrimmage yards in Game 6 at New England and logged three of those for the year — the first Jets rookie with that many 100 YFS games in the regular season since Leon Washington in 2006. And he got his first 100-yard rushing game with 118 yards on 16 carries against Jacksonville, another hurdle he cleared after some thoughts that it might not come in his first pro season.
"We played Miami the first time and I had a big run in the first quarter. And I was just so hard-pressed to get 100," Carter recalled. "At the time I was like, man, if I don't get 100 this game, I'm never going to get it. But when you let it come organically, things tend to happen when you don't stress over it, you don't press over it."
Another growth spurt came in the yards-before-contact area. All the Jets backs and blockers in the season's first half were struggling to get more than a yard and a half past the line before getting hit. Carter through his first nine games was unofficially at 1.21 yards before contact per carry.
But beginning with that Miami home game (and sandwiched around those three IR games due to an ankle injury vs. the Dolphins), he more than doubled his before-contact figure to 2.53 and ramped his total yards/carry in his last five games to 6.04. Some say the running game took off when Laurent Duvernay-Tardif entered the starting lineup at RG vs. the Dolphins, and no doubt that was huge. But Carter's slithery, instinctive running style and his command of OC Mike LaFleur's playbook had a lot to say about it, too.
"He actually understands the playbook really well. That was the big thing I saw from him because I struggled with that," RB Tevin Coleman, who played two years on the 49ers with LaFleur as the passing-game coordinator, told newyorkjets.com's Ethan Greenberg. "Oh, yeah, definitely, he can grow so much in this game. He loves the game, he has great energy out there, and I know he's going to work hard. So we're going to see."
Carter also agrees that we're going to see, but he focuses not on himself as much as on his rookie teammates and on head coach Robert Saleh's physical, violent, technique- and family-oriented culture as key elements of the Jets to watch.
"The culture that we're building right now, it's so physical. We try to put that on tape every time, win, lose or draw. We try to be as violent as possible and we try to have the best technique," he said. "Another thing Coach Saleh teaches is, OK, do your job, but once you know your job, how far can you expand it to make the big play?"
Carter's getting the big-play part down. And he plans on being the sledgehammer toppling any brick walls in his way in 2022 and beyond.
See All of the Top Images from the Green & White's 2021 Season