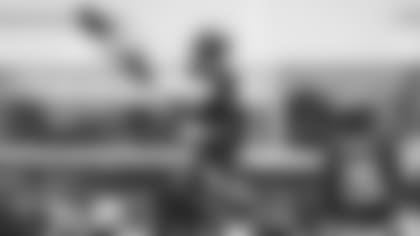 This offseason, between Bryce Hall's first and second seasons with the Jets,. has been nothing like his introduction to the team last year as a true walking wounded.
Hall was one of the top collegiate cornerbacks at Virginia during his junior season when in 2018 he led the nation with 24 PDs and was named All-ACC first team and All-America second team. Before sustaining the fractured ankle injury against Miami late in the 2019 season, he tallied 20 tackles, 3 TFL, 1 sack and 4 PDs.
A guy who was once projected as a high draft pick, Hall (6-1, 202) was snatched by Jets general manager Joe Douglas in the fifth-round pick, No. 158 overall. The Green & White took a chance, and now Hall could be ready to pay big, big dividends.
"Physically, I'm in a lot better shape, I'd say that," Hall said on Thursday, the second day of training-camp workouts at the Atlantic Health Jets Training Center. "It's been really cool with a new strength and conditioning staff. It has been just world class to work with them, amazing. I feel good where my body is at having gone through an offseason program."
It seems kind of silly to say that Hall is one of the more experienced cornerbacks on the Jets' roster. But a fact is a fact. Bless Austin and Corey Ballentine are entering their third seasons; Lamar Jackson and Javelin Guidry their second; and then there are the eager rookies, a group that includes Brandin Echols and Jason Pinnock. (Jason Hardee, signed in free agency, is also in the mix, though he's seen more as a special-team specialist.)
"Any time a coach believes in you there's something to be said," Hall said. "We really want to buy into everything they're doing and saying. It's mutual he [head coach Robert Saleh] believes in us and we believe in him. There's something really awesome about our coach."
Hall acknowledged that some of that awesomeness spilled over as he checked out the manner in which the 49ers, where Saleh was the defensive coordinator, played on defense.
"It's funny because San Francisco, they didn't really do too much," Hall said. "And that's the beauty of this defense. I studied them and how they would do their footwork and technique, they've been doing it for a while. Really, what these coaches did was a really good job of explaining things. It's a pretty simple defense, but it's the details that makes it work well.
"I think the key is making everything look the same from the offense's standpoint. What they want to do is try and find one person that gives away the tell. We want to make everything look the same, if we make it look the same I think it will go a long way."
After rehabbing at the start of last season, Hall earned his baptism of fire in a Monday night game against New England. In all in the 2020 season, he logged 547 snaps (48.1%) of the total on defense. And with each game, he showed improvement. He provided a glimpse of his capability in the Jets victory at the Rams.
Hall played all 59 of the Jets' defensive snaps at Los Angeles. Over 38 coverage snaps, he allowed 2 completions on 4 attempts for a total of 13 yards. One of those other two attempts resulted in his first career interception. It came in zone coverage, and it was all thanks to his long arms.
"Yeah, he's got length, he's got a great brain and he's got a thirst for the knowledge of the game," defensive coordinator Jeff Ulbrich recently. "That's where eventually he'll set himself apart I think because he's just so detailed and he's a guy that's like got the callus on his finger from taking notes in practice."
Right now, Saleh has made it clear that he's confident in his young cohort of cornerbacks. And with a season under his belt, renewed confidence, and a belief in himself and the scheme, Hall could be poised for a truly breakout season.
"I think, just from a mental aspect, it's like the game has become a lot more slow," he said. "Instead of me being out there with my mind going 100 miles an hour, I can now play with poise and comfort. Physically just being able to be more explosive.
"I think for me being able to clean up my footwork, patience, technique are things I'm trying to focus on. That's one area I'm trying to improve on. We'll see when the season starts how successful that was."
See the Best Photos from Thursday's Practice at Jets Training Camp