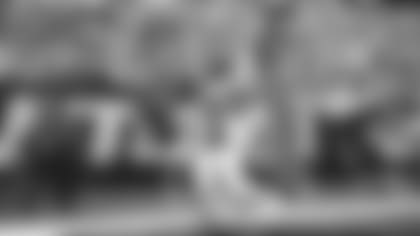 The Jets' cornerbacks have been one of the team's pleasant surprises through four games this season. You might say they are overachieving, but that's not how second-year player Bryce Hall sees it.
"I really love the group of guys we've got in the cornerbacks' room," Hall told team reporter Eric Allen on "The Two-Minute Drill." "Really good dudes, fun to be around and to play with. Each week I feel we're growing together, getting the chemistry right and understanding what it takes to have success in this league. We're hungry and even though we're young, it doesn't stop us from going after every opportunity we get."
Hall has emerged as one of general manager Joe Douglas' most-savvy decisions in his first NFL draft. At Virginia, Hall was initially projected as an early-round draft pick in 2020. But a late-season ankle injury caused many teams to reassess, though Douglas pounced and nabbed Hall in the fifth round. Hall missed a chunk of the season while rehabbing, debuting in Week 9 vs. New England, then flashing in the Week 15 win at the Rams, making his first professional interception in the process. In all he appeared in seven games last season.
Last week in the overtime victory against Tennessee, Hall played all 100 snaps on defense (LB C.J. Mosley was the only other defender to take every snap), leading the team with three pass defenses while also sharing a sack with DL Bryce Huff, registering a pair of QB hits and five combined tackles. In the game, the Jets collected seven sacks of QB Ryan Tannehill, and after the game head coach Robert Saleh attributed part of that success to excellent coverage in the defensive secondary.
"Things seemed to be going my way this past weekend," Hall said. "There's even more I felt I could do. I could have got my hands on a couple of balls and changed the game. Our preparation was right, we played sound and hard, we were prepared. When you put yourself in the right position, you try to make the most of it."
Hall is joined in the defensive backfield by Javelin Guidry, another second-year player who stepped in last week when rookie Brandin Echols sustained a concussion. Still another rookie, Michael Carter II, had another strong game, contributing five tackles and a PD.
"I'm not surprised. We can be better in regards to zone eyes and stuff, but Guidry, Michael Carter II, Echols, Bryce have been playing fantastic," Saleh said recently. "And they're only going to get better with more reps and the things they see. They're going to get tested and they're going to continue to win."
Hall has emerged as the Jets No. 1 cornerback in the scheme of defensive coordinator Jeff Ulbrich. Against the Titans, Hall allowed only two completions for 27 yards on nine targets over 52 coverage snaps, according to Pro Football Focus.
"Love coach Brick," Hall said of the DC who was a defensive assistant for Atlanta from 2015-20. "He's a really, really good coach. He really puts us in positions to be successful. I'm grateful to have him as my coach. He gets us prepared for what we're going to see."
At Tottenham Hotspur Stadium in North London on Sunday, Hall will get an up close and personal look at the Falcons' veteran QB Matt Ryan (who threw four TD passes in last week's loss to Washington), WR Calvin Ridley and the versatile RB/WR Cordarrelle Patterson.
"I see a great opportunity," Hall said about facing the Falcons on his first trip to Britain. "They have a lot of good, talented receivers. It's a good opportunity to go out and have another really good game. It's what we dream about, going up against some of the best people in the league. They have weapons and we have good players on defense."
See the Top Photos from Wednesday's Practice Leading Up to the Green & White's Trip to London