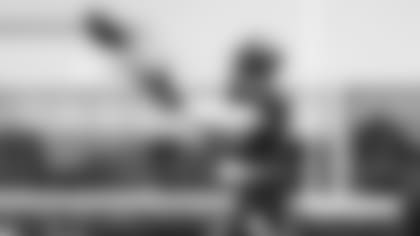 In one way, cornerback is like a lot of other units on head coach Robert Saleh's Jets: The competition's through the roof.
But in another way, the position is unique in the growing Green & White operation because the position is, well, very green. Of the two listed starters on the outside, Bless Austin has played two season with 16 starts, Bryce Hall one season with seven starts. All 11 players listed at both corners plus nickel have combined in their careers for only 35 pro starts and two interceptions.
"The biggest difficulty for them is they don't necessarily have the veteran guy to show them the process, exactly what it's supposed to look like," defensive coordinator Jeff Ulbrich said. "At the same time, it creates this unbelievable competition across the board. Bryce and Bless, they're taking the first reps right now, but they know the best man will play. It's been an awesome competition from that standpoint. These young guys get better every day."
Hall, the 6-1, 202-pounder who was the Jets' fifth-round choice out of Virginia last year and turned 24 three months ago, agrees wholeheartedly with that last take from his D-coord.
"As a defense, I think we're starting to get a rhythm going," Hall told Eric Allen in the latest edition of 2-Minute Drill on newyorkjets.com. "We understand what the calls are, what's the standard for our defense, what's to be expected. So I feel like each and every day we're getting better slowly.
"And for me personally, every day is an opportunity. I'm not where I want to be by any means, but I feel every day I'm coming out and getting a little better. And I'm learning a lot about the NFL, about how this thing is a marathon and not a sprint, you can't get too far ahead, and that's really my approach. Then trust the process and not worry about the results, because if I trust the process, the results will take care of themselves."
Ulbrich underscores Hall's cerebral approach to his position as well as emphasizing other traits he and Austin possess.
"Bless is long, strong, aggressive, tough. He wants to play at the line of scrimmage, he wants to get his hands on you, he wants to disrupt. He's a proven tackler — he'll show up in the run game to support," Ulbrich said. "Bryce is long, strong, same as Bless. Maybe a little more of the cerebral type. He really wants to study the stances and the releases and play a little different brand of ball.
"Both have great attributes as far as their length is concerned. Receivers keep getting bigger in this league and creating the mismatches that become problems for us on Sundays. Both guys bring a lot of value in that way. They're being pushed by these young guys. I'm excited about the young group."
The young guys doing the pushing aren't much younger than Hall and Austin. Lately, Brandin Echols, this year's fifth-rounder, and Isaiah Dunn, an undrafted rookie free agent, have gotten turns with the ones. Saleh said that will continue, not as an "indictment" of Hall and Austin but as having earned the right to move up in class and work against different wideout bodies and skillsets.
"I just think hopefully, we can find two guys that separate themselves," Saleh said.
That's just the way Hall wants it, even though some days he has to look hard to see any improvement after starting the last seven games last season on the left outside.
"I'm tough on myself because I want to do things exactly right, so sometimes it's hard to tell for me. This thing, it's like 7-to-7," he said, referring to the clocks on the wall inside the Atlantic Health Training Center, not the drills on the fields outside. "Sometimes it's not clear where you're at and how you're going. But I just try and come out here with a couple of things to work on each practice.
"I am improving. I'm not where I want to be yet, but I feel I'm on track and we've got great coaches putting us in position. So I think I'm going to keep progressing."